'The Voice' Judges Panel Could Include CeeLo Green Again If The Controversial Singer Gets His Way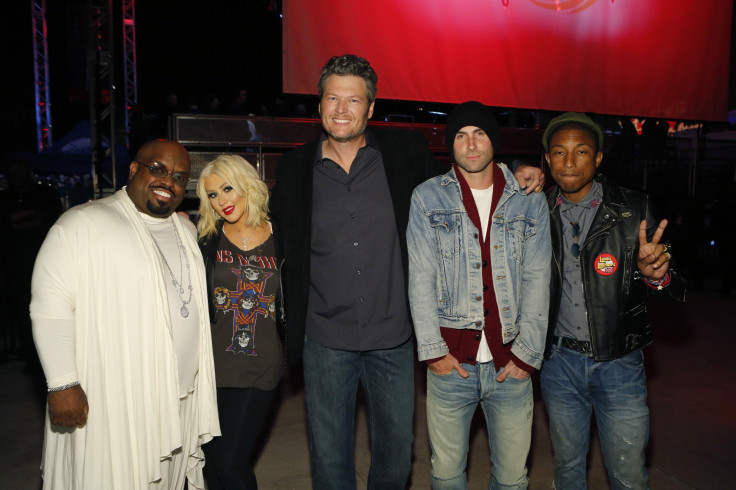 With "The Voice" Season 9 in full swing, the dynamic of coaches Adam Levine, Blake Shelton, Gwen Stefani and Pharrell Williams has never been better. However, it appears there could be a game of musical chairs played among the cast in future seasons, assuming former member CeeLo Green gets his way.
The 41-year-old recording artist sat for a rare interview with the Associated Press since his fall from grace amid a firestorm of controversy last year. After some serious legal allegations were made all the more charged by a misguided series of tweets by the "Forget You" singer, he stepped down from his position as a judge of NBC's hit singing competition, but it looks like he's making a comeback attempt.
"I've talked very possibly about doing 'The Voice' again," Green told AP. "So I just kind of put that out there, wishful thinking, kind of willing it. Because I would love to do it again."
Born Thomas DeCarlo Callaway, Green announced he'd be leaving "The Voice" after Season 5 during an appearance on "The Ellen DeGeneres Show" in 2014. Although the singer said the split with NBC was amicable and an effort by him to focus on his music, TheWrap reported the move was a preemptive strike to prevent NBC from firing him amid his legal troubles.
Also last year, Green released several tweets in which he spouted some controversial opinions about rape, including the idea that a woman must be conscious to be raped and that any woman who doesn't remember the incident wasn't really raped. He later apologized for the tweets. The comments came around the time he pleaded no contest to charges that he drugged a woman with Ecstasy in 2012. The remarks seemed to lead to the cancellation of his TBS show "The Good Life." Since then, the singer hasn't been doing much TV work.
However, it appears that Green, who was on the first three seasons of "The Voice," as well as Season 5, is hoping the network will see fit to let him back in a revolving judge's chair sometime in the future. Despite the circumstances under which he left the show last year, he had already been allowed to come back in Season 8 as a celebrity guest mentor of the contestants. So, with NBC seemingly not shy about putting the former judge back on the show he helped create, it's possible his effort to rejoin the judges' panel may be more productive than many may have initially believed.
Would you want to see CeeLo Green replace one of the judges on "The Voice" during Season 10? Comment below or tweet your thoughts to @TylerMcCarthy.
© Copyright IBTimes 2023. All rights reserved.