Vox Media Is 80% White, According To Internal Diversity Figures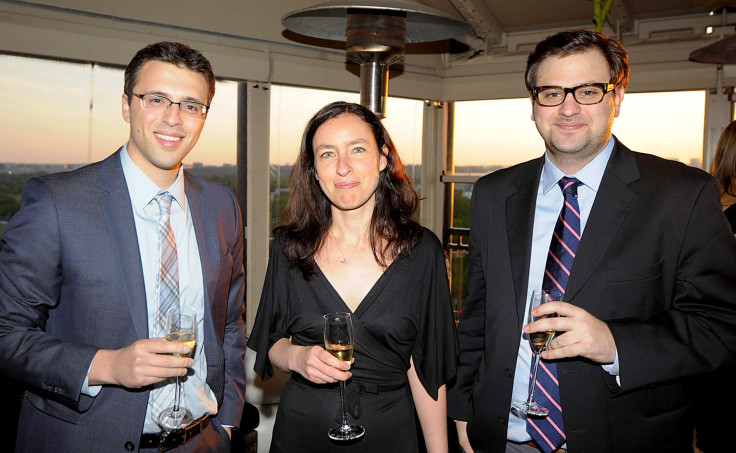 Vox Media, the digital media startup that is home to the Verge, Vox.com and SB Nation, has conducted an internal survey and found that that roughly 80 percent of the company is white, International Business Times has learned. The diversity figures obtained by IBT were circulated inside the company a few weeks ago and tally up Vox's gender and racial breakdown.
The data says that Vox's "content" side is 80 percent white, leaving 20 percent of the staff nonwhite. The revenue side is 15 percent nonwhite, the product side 25 percent, and the corporate side 28 percent.
The numbers, a source close to the matter said, may not be final but were shown to employees as recently as last month.
Representatives for Vox Media issued the following statement: "While we have not seen the data IBT claims to have, and therefore can't comment specifically to it, we are proud to be a company that prioritizes diversity and recognize there are more opportunities to improve as we continue to grow. We are taking many important actions as part of a comprehensive plan to build a diverse and inclusive staff, including collecting data to better understand how our employees self-identify, ensuring we have highly qualified, diverse candidate pools for open positions and developing a diversity leadership group to advance these efforts."
A chart included with the data, which appears to show the breakdown of the "content" side but could be a mislabeled representation of the company's aggregate number, reports the percentage of each racial group: 8 percent of staff is Asian, 5 percent is black/African-American, 4 percent is multiracial, and is 3 percent Hispanic or Latino.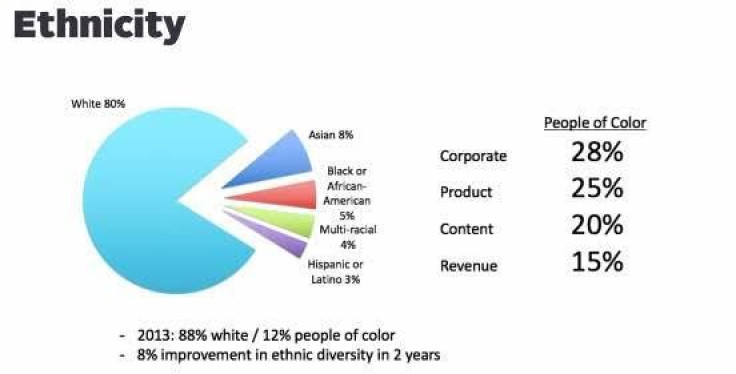 The internal data says this is an 8 percent improvement in ethnic diversity from 2013, when the company was 88 percent white.
Meanwhile on the gender balance front, the company, according to the data, is 58 percent male, 41 percent female and 1 percent other, up from 2013, when the shop was 82 percent male and 18 percent female.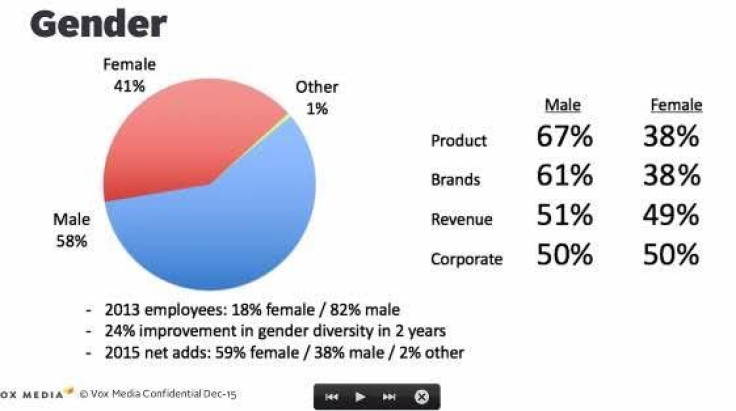 Vox does not stack up well next to some of its competitors: BuzzFeed is now 67 percent white, Mic.com 74 percent white, Gawker 78 percent white. An IBT report last year found Politico was around 92 percent white.
Last year, as part of a series on diversity in digital newsrooms, IBT reached out to a number of news organizations and published their numbers. (Figures for IBT are included in that report as well.) But some newsrooms declined to share them.
In July 2015, IBT contacted Vox Media to ask for its diversity figures and continued to inquire throughout the following months. The company initially told IBT that it would have its numbers ready within a few weeks but later said it was still in the process of surveying the staff.
Back in November, Vox published a code of conduct toward women and minorities on its product team, calling it a "public commitment," and said it hoped other shops would find it "inspirational or instructive." The policy discouraged white and male staffers from "mansplaining" and "microaggressing" their female and nonwhite colleagues.
"Many women and people of color in the tech industry have many tales of being either mansplained about a field in which they are experts, or else excluded from learning opportunities because a colleague wouldn't make an effort to answer questions — don't be that person."
Apparently, the company has found that 80 percent of Vox employees run the risk of being that person.
© Copyright IBTimes 2022. All rights reserved.
FOLLOW MORE IBT NEWS ON THE BELOW CHANNELS