'Walking Dead' Attraction At Universal Studios To Open Summer 2016; How To Get Tickets To The Walker-Inspired Maze [VIDEO]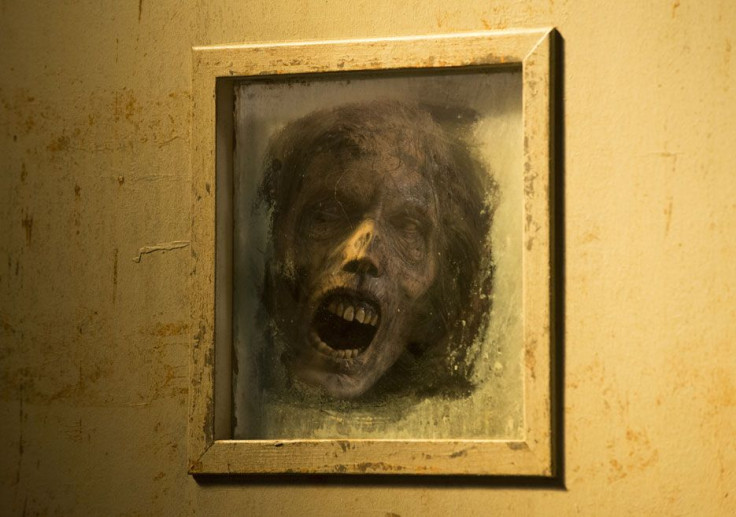 On Sunday night's episode of "Talking Dead," host Chris Hardwick had some big news for fans of the AMC drama "The Walking Dead." Those who wish to experience the world of the show can soon do so by visiting the upcoming attraction headed to Universal Studios in Hollywood.
"The Walking Dead" is one of the highest rated shows ever to grace TV screens, so it would make sense for people to want to try and immerse themselves in the world of the series, even if it means facing the stuff of nightmares. This summer those brave enough can travel to California and check out the permanent installation that will allow bold visitors to navigate their way through a gauntlet of walker-induced fear. According to the attraction's announcement from Universal, it will also feature some iconic scenery from the show, allowing fans to "follow in the footsteps of the human survivors."
Although the attraction doesn't open until a yet undisclosed date this summer, droves upon droves of fans have already seen some of what it will have to offer. Previously, AMC and Universal Studios worked together to create an immersive "The Walking Dead" experience. However, it was a seasonal addition to the park, designed only to last through its Halloween Horror Nights. In 2015, fans were treated to a maze that took them through the cannibalism of Terminus, a backwoods church similar to that of the character Father Gabriel (Seth Gilliam) and a FEMA camp where the government had lost control of its containment procedures.
While fans responded well to the temporary walker maze, the theme park is pulling out all the stops for the permanent attraction. According to AMC, the new journey will use a combination of animatronics and live performers, as well as special effects, props, staging, costumes and makeup that were all created in collaboration with the show's award-winning production team. The effects team is helmed by director and executive producer Greg Nicotero. As a result, those who attend Universal Studios in Hollywood this summer will experience the most authentic portrayal of "The Walking Dead" short of visiting the actual set.
Those with intentions of planning their summer vacation in Hollywood to experience the new attraction should first keep in mind that it only has a vague opening date of summer 2016. As a result, it might be best to wait until the opening is announced before buying a ticket. Currently, tickets for Universal Studios in Hollywood run at $95 for adults (ages 10+) and $87 for children (ages 3-9) per day. However, those who choose to order their tickets online in advance may be able to save some money thanks to the park's many deals being offered between now and the end of 2016. Depending on when you decide to plan your trip, you could save as much as $20 on tickets. However, when the summer months arrive, those deals range closer to $5 off general admission price. Click HERE for more information on where to buy tickets.
Are you interested in checking out "The Walking Dead" attraction at Universal Studios in Hollywood? Comment below or tweet your thoughts on the permanent installment to @TylerMcCarthy.
© Copyright IBTimes 2023. All rights reserved.