'The Walking Dead' Releases New Photo Of Negan Ahead Of 90-Minute Season 6 Finale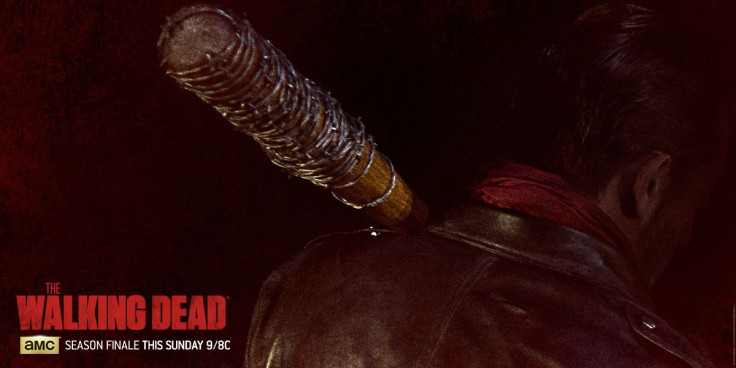 "Walking Dead" fans better begin mentally preparing now. Comic book villain Negan is set to make his grand entrance during the 90-minute Season 6 finale Sunday, and AMC is giving viewers a taste of the deadly drama to come. The network released a brand-new promotional image to tease the arrival of the character played by Jeffrey Dean Morgan.
The new photograph promotes the finale, episode 16 of Season 6. As in the recently released trailer, the image features the back of Negan. His hair is slicked back and a baseball bat wrapped in barbed wire rests on the left shoulder of his leather jacket.
Fans who have read Robert Kirkman's "The Walking Dead" comic books know that Negan, the leader of the Saviors, affectionately named his weapon "Lucille." He uses the bat to beat in the heads of his enemies, something that was teased earlier this season when Glenn (Steven Yeun) came across some photos of victims at the Saviors camp. Based on the graphic novels, many are assuming Negan will use Lucille to kill a major character during the finale. It's unclear just who will be killed because the television show doesn't exactly follow Kirkman's pages. However, the comics reveal that at least one character who should be worried for his life.
Of course, this is not the only thing that Negan is known for. This season, viewers were also introduced to a character named Dwight (Austin Amelio). Dwight initially appeared to be attempting to run from the Saviors, but recently resurfaced as the leader of a group of deadly survivors. He wasn't the same man that fans saw at the beginning of Season 6, though. Half his face was badly burned.
His injury has not been addressed on screen, but the comics shed some light on what happened to him. In the graphic novels, Negan burns Dwight's face because he slept with one of his wives. The leader of the Saviors has multiple wives who he bans from hooking up with other men. The woman that Dwight slept with was his wife before the zombie apocalypse. She became one of Negan's wives to get protection and safety.
"The Walking Dead" Season 6 finale will air on AMC Sunday, April 3, at 9 p.m. EDT. What do you think of the Negan photo? Tweet your thoughts to @AmandaTVScoop.
© Copyright IBTimes 2023. All rights reserved.