'The Walking Dead' Season 6 Has Been Teasing What Negan's Capable Of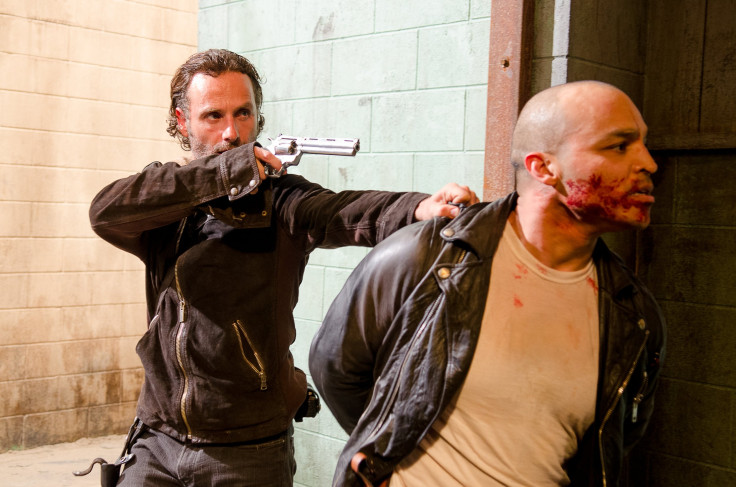 You don't need to read "The Walking Dead" comics in order to be a fan of the AMC show. However, those that do read Robert Kirkman's graphic novels have been able to catch a couple teasers about the impending arrival of big bad comic villain Negan (Jeffrey Dean Morgan).
Negan has yet to make his appearance on screen, and Rick (Andrew Lincoln) and the rest of the survivors at Alexandria still have no idea what they're up against. Hilltop Colony resident Jesus (Tom Payne) revealed in episode 11 that Negan's group, the Saviors, showed up at their safe haven shortly after the walls went up. The Saviors made demands for supplies and food, and beat a 16-year-old to death to show that they meant business.
Despite the threats and brutal acts of violence, nobody has actually laid eyes on the leader of the Saviors. In fact, Rick believes that he killed him. In reality Rick killed a man named Primo who just claimed he was Negan. But to add to the mystery, one member of the Saviors told Carol (Melissa McBride) that they were "all" Negan.
Episode 14 this past Sunday showed that the Alexandria survivors were in a bit of a stale routine after taking down the Saviors. However, Daryl (Norman Reedus), Rosita (Christian Serratos), Eugene (Josh McDermitt) and Abraham's (Michael Cudlitz) run-in with Dwight's (Austin Amelio) group in the woods revealed that the real Negan's arrival is on the horizon — and they have multiple reasons to be afraid.
In the comics, Negan is known for his cruelty and violent punishments. The second half of Season 6 has made sure to include hints of what he's capable of.
[WARNING: STOP READING IF YOU DON'T WANT TO KNOW WHAT HAPPENS IN THE COMICS.]
In episode 12, when Rick's crew attacked the Saviors, Glenn (Steven Yeun) came across photos of men with their skulls bashed in. The photos were posted above the bed of one of the Saviors he had to kill, and could potentially forshadow what's to come for Glenn. Negan uses his beloved weapon, a baseball bat covered in barbed wire that he named Lucille, to kill Glenn. Like the photos, Glenn had his head crushed by Lucille.
Episode 13 delivered another teaser of what Negan's capable of when the woman questioning Maggie about Alexandria unwrapped a bandage on her hand. One of her fingers was cut off, an act of punishment for her stealing gas to try and find her boyfriend.
The final hint at what's to come came during episode 14 when Dwight, a character who was introduced in the first half of Season 6, made his return to the screen. Daryl and fans immediately recognized the character, but something was different about him — half of his face was severely burned.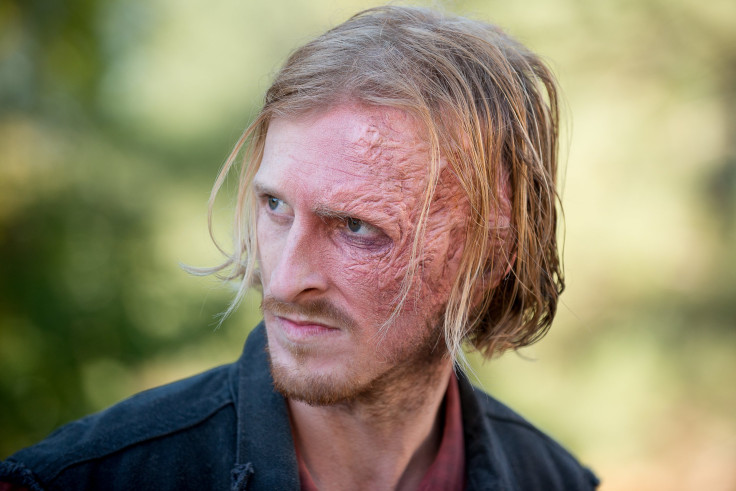 In the comics one of Negan's signature forms of punishment is burning someone's face with an iron. This is not something he does on a whim. Whoever gets burned somehow betrayed him. In Dwight's case, he slept with one of Negan's wives, who was actually Dwight's wife first.
Of course, one has to note that AMC's "The Walking Dead" doesn't always follow the comic books. However, multiple parties associated with the series have promised that they're going to be as "faithful" to the graphic novels as they can.
During a recent interview with Entertainment Weekly, showrunner Scott M. Gimple said that their goal is to take moments from the comic book and to make fans "get those feelings" and "emotions" they had when they first read the pages.
"Sometimes we have things from the book that people who read the comics maybe see coming a mile away, and we try to adjust that so that we can give them the same feeling they had when reading the book, which might have been shock or surprise or fear, any of those things," Gimple explained. "It might be wildly different, but it's all to get the same sort of feelings that you got when you read them."
Meanwhile, executive producer Gale Anne Hurd told Us Weekly that "anyone who loves Negan from the comic books will literally be cheering."
"He's a completely different kind of character than we've had in the past, and honestly I cannot imagine someone more perfect than Jeffrey Dean Morgan to bring him to life."
Negan will make his first appearance on screen during "The Walking Dead" Season 6 finale on Sunday, April 3. The episode has been expanded to 90 minutes.
© Copyright IBTimes 2023. All rights reserved.
FOLLOW MORE IBT NEWS ON THE BELOW CHANNELS