'Walking Dead' Season 6 Negan Finale Spoilers Allegedly Leaked Online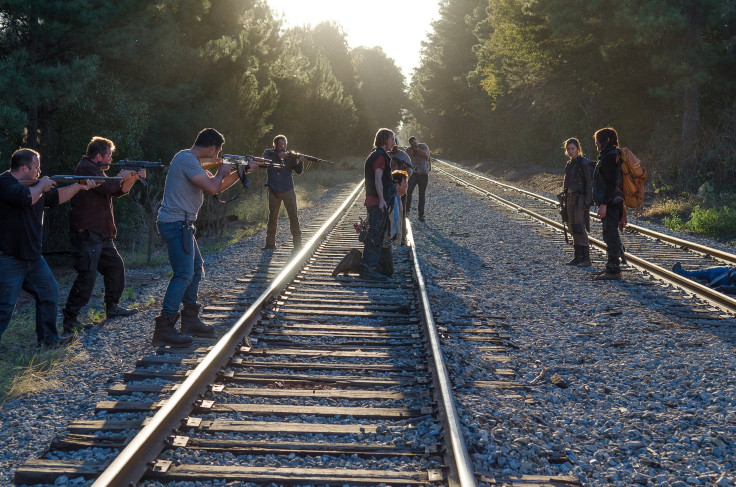 Say it ain't so! Plot details about the highly anticipated Season 6 finale of "The Walking Dead" have allegedly leaked online.
[WARNING: Continue reading at your own risk!]
The sixth season of the hit AMC series is winding down with one more episode before the finale. Fans already know that the show is working up to a 90-minute installment featuring the introduction of comic book villain Negan (Jeffrey Dean Morgan), and Facebook fan page The Spoiling Dead claims they have spoilers from it. A post, that has since been deleted, said the final episode will end with a deadly cliffhanger.
It's a known fact by now that the leader of the Saviors will make his on-screen debut during episode 16. Although it's not clear how Negan will come face to face with Rick (Andrew Lincoln) and the other Alexandria survivors, fans of Robert Kirkman's comic books have some idea how it might play out.
Negan makes his first appearance in Issue 100 of the comics. A group of the Alexandria survivors – including Rick, Carl (Chandler Riggs), Michonne (Danai Gurira), Glenn (Steven Yeun), Maggie (Lauren Cohen) and Heath (Corey Hawkins) – are on their way to the Hilltop Colony when they get stopped by the Saviors. They line everyone up in front of Negan, who warns them that he's going to take a life as payback for all the Saviors that the Alexandria folks have killed. Negan randomly picks [SPOILER] and kills him by repeatedly bashing his skull with his beloved weapon, a baseball bat covered in barbed wire that he affectionately calls Lucille.
"Walking Dead" showrunner Scott M. Gimple revealed to Entertainment Weekly earlier this week that the finale will be "faithful to the comic book as much as one can." However, that doesn't necessarily mean that the character who dies in the comics will die on screen. He added that they want to change things up in a way that honors the comics but still surprises readers.
"Sometimes we have things from the book that people who read the comics maybe see coming a mile away, and we try to adjust that so that we can give them the same feeling they had when reading the book, which might have been shock or surprise or fear, any of those things," he explained. "It might be wildly different, but it's all to get the same sort of feelings that you got when you read them. So will it be different? Absolutely. Will it be the same thing? Absolutely."
Fans will have to wait until the finale airs on Sunday, April 3, at 9 p.m. EDT to find out how it plays out.
© Copyright IBTimes 2023. All rights reserved.