'The Walking Dead' Season 5 Netflix Release Date Confirmed; Episodes To Drop Ahead Of Season 6 Premiere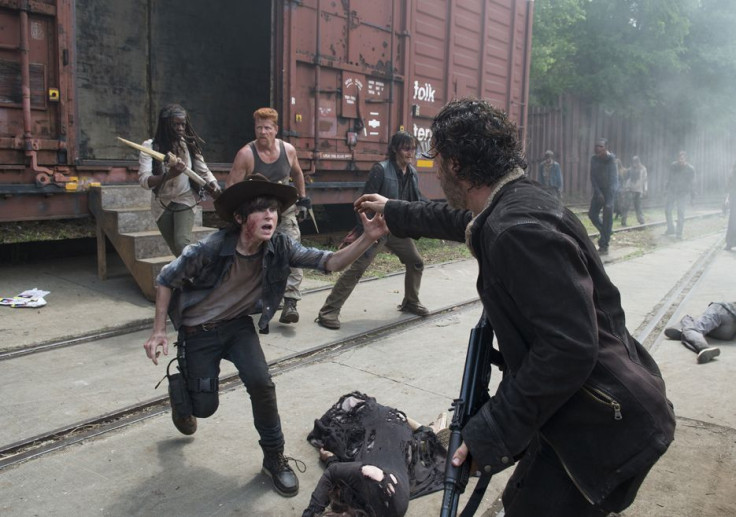 Good news, "The Walking Dead" fans, it looks like you've officially got something to do between the awkward gap when "Fear the Walking Dead" ends and Season 6 of the flagship series begins. Netflix has announced that Season 5 will be available to stream in its entirety at the end of next month -- just in time for the zombie drama's October return on AMC.
Fans of "The Walking Dead" will be able to binge-watch all 16 episodes of last season starting Sept. 27, according to CNET. That gives viewers two whole weeks to rewatch Season 5 leading all the way to the climactic cliff-hanger that's been plaguing them since March.
Having trouble remembering what happened at the start of Season 5? You're not alone. Unlike most seasons of the series, the premiere episode was both the most action-packed and the most self-contained storyline of the season. [SPOILER ALERT] After the Governor (David Morrissey) returned to the group's prison in order to demolish the safe haven they'd created, Rick Grimes (Andrew Lincoln) and the rest of his intrepid survivors were scattered to the winds and forced into the wilderness. While walking along train tracks, they heard of a safe haven known as Terminus. The fifth season opens with most of the survivors reunited, but held captive by the cannibals who took over the alleged sanctuary.
They quickly dispatch the cannibals with some help from Carol (Melissa McBride) and find themselves back on the road once again, but this time with each other to protect them. Unfortunately, that isn't enough to stave off hunger and dehydration, so they find their way to the walled community of Alexandria. When Season 6 picks up again, fans finally will see the aftermath of Rick's execution of Pete (Corey Brill) and the impact that the newly arrived Morgan (Lennie James) will have on their dynamic in the new community.
Will you be binge-watching Season 5 of "The Walking Dead" on Netflix before Season 6 premieres Oct. 11? Comment below or tweet your thoughts on the matter to @TylerMcCarhy.
© Copyright IBTimes 2022. All rights reserved.
FOLLOW MORE IBT NEWS ON THE BELOW CHANNELS