'Walking Dead' Season 6 Finale Confirmed To Be 90 Minutes; Title Name Rumored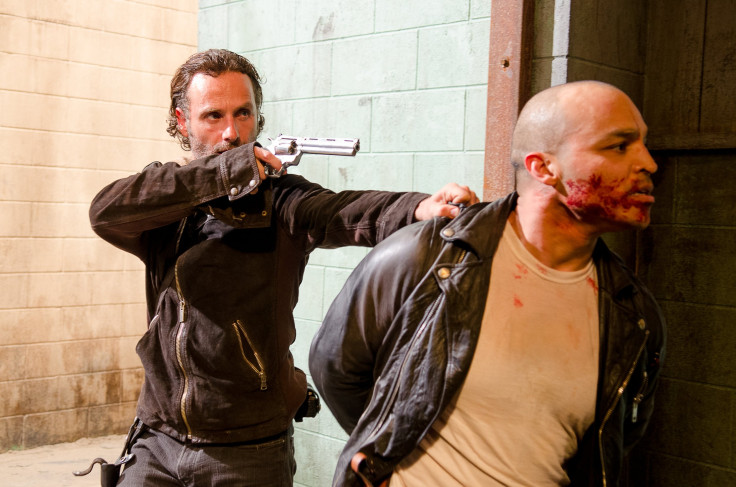 Mark your calendars, "Walking Dead" fans. Season 6 has been a wild ride so far, with the introduction of new characters and dangerous threats. Everything is leading up to an action- packed finale on April 3, and it's now confirmed on AMC's website that the final episode of Season 6 will be a whopping 90 minutes long.
The finale is directed by executive producer and special effects supervisor Greg Nicotero. This season he also directed the premiere, midseason premiere and episode 12. Fan page "The Spoiling Dead" reports that the title for the final Season 6 installment will be "Last Day on Earth." However, AMC has not announced the title yet.
The show has a lot to cover, so the extended episode comes as no surprise. However, there are limited details about what fans can expect to see go down. Currently the only teaser about the finale is that big bad comic book villain Negan, played by Jeffrey Dean Morgan, will be making his first appearance on screen. It's unclear if the upcoming installment will introduce him at the beginning, or if his arrival will act as a cliffhanger leading into Season 7.
So far Negan's arrival has only been teased. Daryl (Norman Reedus), Abraham (Michael Cudlitz) and Sasha (Sonequa Martin-Green) ran into a couple of his men while out in the road. The group was going to kill them, but Daryl managed to eliminate the threat thanks to the recent acquisition of a grenade launcher. Rick (Andrew Lincoln) and the other Alexandria survivors learned more about the menacing leader of the Saviors from Jesus (Tom Payne) and Gregory (Xander Berkeley) at the Hilltop Colony. They explained that the Saviors demand supplies from them, and kill and torture their people if they don't deliver.
Rick struck a deal with Gregory, and offered to kill Negan and the Saviors in exchange for food for his people. He followed through on his word, organizing an attack on the opposing camp at night. But while the Alexandria folks did manage to kill a large number of the Saviors, they didn't take out their leader. The twist is that they don't know that. The man they thought was Negan was just a member of the Saviors named Primo.
"Walking Dead" fans will have to watch the finale on Sunday, April 3, at 9 p.m. EDT to see Negan's big entrance.
© Copyright IBTimes 2023. All rights reserved.
FOLLOW MORE IBT NEWS ON THE BELOW CHANNELS