Washington DC Crime Rate 2015: Amid Gentrification, A Public Safety Crisis Worries Some Neighborhood Leaders, Police Union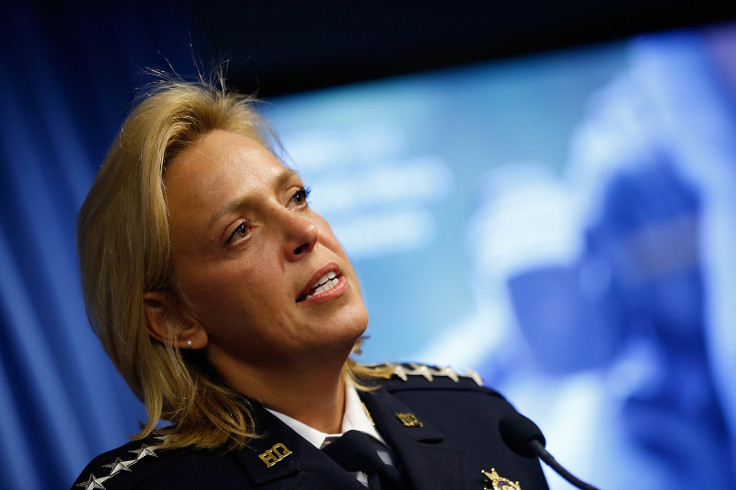 It's not uncommon for Vicki Wright-Smith to see drug transactions on her block in Washington, D.C,'s bustling Columbia Heights neighborhood. She's seen the same hand-to-hand deals for nearly six years, something she said police in the area seem to give little attention to.
"I don't know how hard they're working," Wright-Smith, who has lived in Columbia Heights since 1988 and is a retired neighborhood commissioner. "I just don't know what they're doing. All you have to do is go and sit on our block for a good hour or two and see hand-to-hand transactions going on, but no one will do that."
Now, Wright-Smith, as well as other community and law enforcement leaders, are worried about the future. A recent report from the D.C. police union claims officers are leaving the department in droves, suggesting the size of the local police force may shrink. While D.C. Police Chief Cathy Lanier has denied the alleged "manpower crisis," the police department is experiencing a retirement bubble, and has had trouble keeping young officers on the force and attracting recruits. As many D.C. neighborhoods gentrify, pushing up rent, some law enforcement professionals are worried that having fewer officers serving the nation's capital will prove troubling for communities striving to improve.
"If criminals get word that there is a reduction in the number of police officers, that's going to lead to more robberies, more assaults, more trespassing," Wright-Smith said. "They know if there's a reduction in the police officers, they know there will be less police officers that know what they're doing."
D.C. is the midst of a population boom that saw a massive growth in young professionals driven by community leaders' efforts to reverse years of people moving out to safer suburban enclaves. More than two decades ago, Washington was known as the murder capital of the country. While the crime rate has dropped since those days, the nation's capital, known to many for its gleaming monuments and world-class museums, has recently faced a growing crime problem in its increasingly diverse and upscale communities. Rents in gentrifying neighborhoods — including Columbia Heights and Petworth — have increased by up to 48 percent, according to a recent report by the D.C. Fiscal Policy Institute.
Crimes with guns have increased 34 percent in Petworth this year compared to last year, and 9 percent in Columbia Heights. There were 154 homicides across D.C., this year, compared with 97 last year, a 59 percent increase and the highest rate since 2008, according to government statistics.
Patrick Flynn, a former neighborhood commissioner in Columbia Heights, said in the nine years he has lived in the area there has never been an adequate police presence. Police presence has only been recognizable when there is a significant event, such as the three killings in the neighborhood this year, he said.
Washington D.C. Demographics | FindTheHome
Some areas thought to be hotbeds of criminal activity were frequently unpatrolled by police until recently. One of these spots was at the corner of Georgia Avenue and Lamont Street, where Morgan's Seafood is located, an establishment that has been in owner Romeo Morgan's family for more than 80 years.
He said he has petitioned elected officials for a long time to get a police presence in the area, where on an average day passersby might see people selling drugs, people using drugs, prostitutes and thieves. It wasn't until Derrick Black, 24, was killed in front of a bus stop near the intersection in July that police began to make their presence known there, Morgan said.
"Literally you couldn't walk down the street, I had to stop my daughter from coming down that [area] because I didn't want anything bad happening to my daughter," Morgan said. "It wasn't until a young kid died, now we get police," he added.
By the D.C. police department's own estimates, 764 officers have left since January 2014, more than half of which were retirements, and 562 have been hired in the past two years. The department said in a statement that resignations have been consistent with the historical average, but the union claims more people want to leave because of a toxic work environment and bad scheduling.
The D.C. police department's retention of young officers has also proved a problem, said Delroy Burton, the police union chairman, with many leaving for departments in other areas or the federal law enforcement agencies located in the area.
"We used to have people that would stay here 30 or 40 years," Burton said. "Now we have people working here that have countdown apps on their cell phone," he said, referring to the last day of duty retiring officers wait for.
Lanier said in a statement that she had received fiscal funding for 2016 to get more people on the police department, and that $2.5 million has been invested in a program to provide education incentives to young officers. Local officials have expected the retirement bubble for years after the department went on a 1,500-person hiring spree in 1989, meaning many officers were expected to retire around the same time. Lanier said she was hiring as many officers as she could given her budget, training resources and background check capacity.
But the department isn't working quickly enough for its critics. When one calculates the approximately 200 officers on modified duty — those who have been hurt or who are on leave — and the officers in leadership positions, that only leaves about 3,100 officers actually patrolling the streets, Burton said. If the officer numbers decrease, response times will increase and it will take longer for officers to respond to some crimes, he said. Some victims could end up waiting hours for a police to respond to their calls, he added.
"You have a finite resource and you have a growing city, you have a lot of residents," Burton said. "The city has grown, the police shrunk. The response times are lower, the ability to patrol, less."
Washington D.C. Household Information | FindTheHome
To be sure, other local governments around the country have struggled in recent years with shrinking police departments and budgets while confronting growing crime rates. Part of the problem is that many recruits can't complete the physical fitness tests while at the academy, and even more are excluded because of an unfit background, such as having a history with drugs, a prior arrest or psychological problems, Ron Martinelli, a California forensic criminologist who has served as an expert witness in many national police cases, said.
Some public safety leaders also claim that increased media scrutiny over how officers police their communities has created a disincentive for people to go into law enforcement. A debate over police use of deadly force made national headlines after the August 2014 shooting of teenager Michael Brown in Ferguson, Missouri, by police officer Darren Wilson, prompting mass protests and more people to question how police officers act in their communities.
Burton said recruiting has been difficult in the past year and a half, which he attributes partly to the focus on police brutality. "Who is going to want to come out of college and want to put up with this stuff," he said.
But problems in the nation's capital go beyond police staffing numbers, said Sylvia Robinson, a Washington community organizer. Crime is a byproduct of dilapidated social structures and people often turn to violence because of issues like unemployment, inadequate job training and a lack of affordable housing, all problems Robinson said she works on.
Washington, D.C., was about 50 percent black in 2014, with a homeownership rate of 42 percent, according to Census data. Nearly 20 percent of residents live in poverty, compared to a national rate of 15 percent.
"Policing isn't the only way to deal with crime," Robinson said. "We need to have a lot longer and deeper conversation, and the time to have that longer and deeper conversation is now. We don't want to wait for the crime to spike to talk about these deeper issues."
Audra Grant, a community activist, said she and others have worked with the D.C. police department to stop crime near the lower Georgia Avenue area where Black was killed this summer. While the area isn't as rife with crime as it once was, it isn't very well lit and still has many vacant properties, making it a popular loitering and drug dealing spot, she said.
Grant is part of the Georgia Avenue- Lamont Public Safety Task Force, which works with D.C. police to reduce crime in the Park View neighborhood near Howard University, the historically black research university. She said after the task force asked for additional police patrols, more officers could be seen in the area. But Grant said she fears a reduction in the number of officers could curb progress.
"To see a depletion of police ranks as a result of retirement would reverse a lot of the positive changes that have happened, and make the area vulnerable again, even more vulnerable that it is," she said.
FOR FREE to continue reading
✔️ Unlock the full content of International Business Times UK for free
offer available for a limited time only
✔️ Easily manage your Newsletters subscriptions and save your favourite articles
✔️ No payment method required
Already have an account? Log in
© Copyright IBTimes 2023. All rights reserved.