Watch April The Giraffe Giving Birth On Live Stream As Light Discharge Continues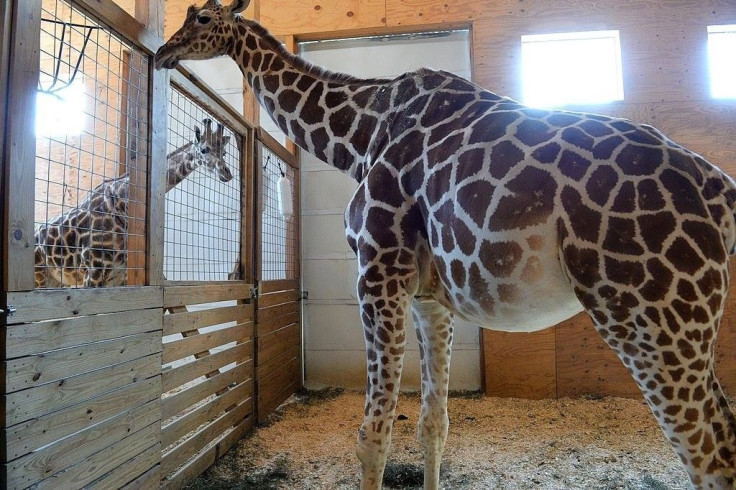 April the giraffe has yet to have her baby, even though viewers have not-so-patiently waited since February. Animal Adventure Park, the upstate New York zoo where she is housed, continued to write daily updates about April's condition on Facebook.
There will be no change in April's body until she is ready to start active labor. "April is already out and enjoying the sunshine for the day," the zoo wrote Friday. "Grain intake remains moderate. Light discharge continues. Otherwise, all is normal and well, as expected. The only real drastic changes we will see from here is active labor — no much more change / development can occur."
READ: April The Giraffe Is 'Out Of It,' Zoo Says
Animal Adventure Park normally posted comments at 9 a.m. EDT, but was late Friday. "Again — please excuse the sporadic/tardy post times this month. We are in construction/opening mode and routines are no longer routines on the April the giraffe side of our operation," they said.
For the fact of the day, the zoo talked about how many giraffes there are. "Estimations as of 2016, indicate that there are approximately 97,500 members of Giraffa in the wild, with around 1,144 in captivity," the park revealed. "Conservation and preservation efforts are no joke and need your help now!"
After some people watched the live stream, viewers were nervous about Oliver's behavior toward April. "He was not being 'aggressive,' but he was certainly showing his dominance," the zoo explained. "You may have noticed his playful necking behaviors (not true aggressive necking behavior), his blocking her movements, etc. This is all part of the fun and games of a young bull. At no time did he pose and serious threat to April of her calf."
A due date for April the giraffe was never given. When her calf is born, it will weigh 150 pounds and stand at 6-feet-tall.
Follow me on Twitter @mariamzzarella
© Copyright IBTimes 2023. All rights reserved.