Watch: Biden Trips Again, Avoids Falling Over While Boarding Air Force One
KEY POINTS
Biden nearly missed a step while boarding Air Force One on Wednesday
He had previously fallen while running up the stairs in early March
President Biden had once mocked his predecessor for gingerly walking up the steps
President Joe Biden on Wednesday tripped on the stairs of Air Force One but managed to avoid tumbling over, which he did a while boarding the jumbo jet a couple of weeks ago.
Footage of Wednesday's incident shows the commander-in-chief climbing the stairs before nearly missing a step as he boards Air Force One for a flight out of Pittsburgh, where he unveiled his $2 trillion Build Back Better plan.
The president drew concern after tripping three times before falling over while trying to climb the stairs of AF1 at Joint Base Andrews in Maryland. He then appeared to dust off his knee before getting on the plane.
The incident prompted White House communications director Kate Bedingfield to assure reporters that Biden wasn't injured.
"I know folks have seen that President Biden slipped on his way up the stairs to AF1, but I'm happy to report that he is just fine and did not even require any attention from the medical team who travels with him," she said in a tweet.
"Nothing more than a misstep on the stairs," she added.
In November, Biden — the oldest U.S. president in history — suffered a hairline fracture in his right foot while playing with his dog Major. The injury required him to wear an orthopedic boot for a few weeks.
After the fall on Wednesday, White House deputy press secretary Karine Jean-Pierre told reporters that he was "doing fine," but refused to say whether he hurt his foot.
"So, as you know, it's pretty windy outside, it's very windy," she said. "I almost fell coming up the steps myself. He is doing 100% fine."
The stumbles come after Biden, in September 2020, mocked former President Donald Trump for gingerly walking down a ramp at West Point.
"Look at how he steps and look at how I step," Biden said. "Watch how I run up ramps and he stumbles down ramps. OK? Come on."
During his November presidential campaign, Biden's team released a summary of his medical history, which showed that the former vice president was healthy and fit to lead the nation.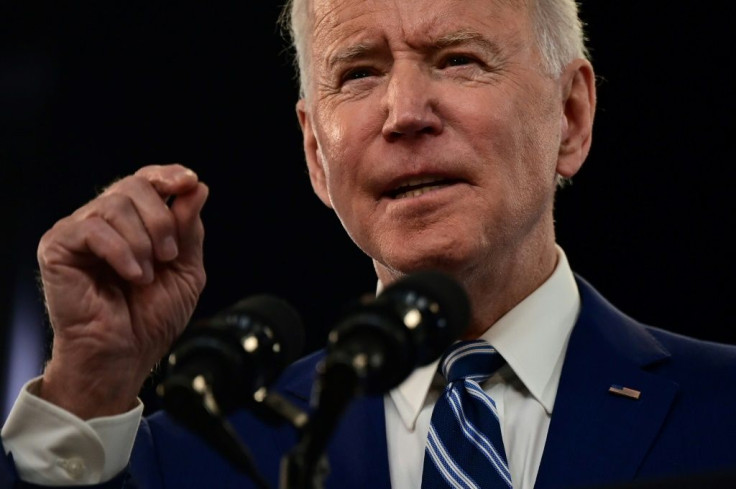 © Copyright IBTimes 2023. All rights reserved.