WATCH: THE BOYZ 'Lip Gloss' Music Video Teaser Filmed In Siargao, Philippines
KEY POINTS
The teaser for the first part of THE BOYZ's "Phantasy" album is out
The full "Lip Gloss" song and music video will be released on Monday
THE BOYZ's "Phantasy" album will be released in three parts
The "Phantasy" album trilogy of THE BOYZ has officially started after the group dropped the music video trailer for "Lip Gloss," which was filmed on a tropical island.
On Friday, THE BOYZ dropped a 28-seconder trailer for the group's upcoming music video. In the trailer, the members of the K-Pop group appear to have the time of their lives on the island until a woman catches their attention.
Aside from the catchy summer tune of the upcoming song "Lip Gloss," fans noticed that the music video was filmed on Siargao Island, Philippines.
Filipino Deobis – THE BOYZ's fans – shared mixed reactions online after seeing the music video trailer. Though they are happy that the group filmed in one of the beautiful islands of the Philippines, they wished a Filipina heroine got cast in the project instead.
"So this was shot in the Philippines... choosing a Filipina would be more slay," commented one fan, while another said, "[T]hey really went to shoot in the [P]hilippines just to have some white girl and a bunch of expats to be the cast."
"[You're] telling me they filmed this in the Philippines and no Filipina was available???" tweeted a third fan, while a fourth fan said, "[I'm] sorry [you all]. [I] gasped when I saw this was all for a white girl."
Meanwhile, other fans expressed excitement for the release of THE BOYZ's upcoming summer song.
"[E]ven if it sounds like an old Navy commercial, [I] will still [vibe] to it anyway. [I don't care], it's something fun for the summertime!" tweeted one fan; another commented, "[O]ne thing about [THE BOYZ] is they're going to make a good summer track."
In late July, IST Entertainment released a collage of three sequence posters corresponding to THE BOYZ's three-part album with the official announcement for the release of "Phantasy."
In the released photo, "Phantasy" was shown on three different screens in three places, including a beach, a drive-in theater and a field of snow.
Titled "Christmas In August," the first part of the "Phantasy" trilogy album will showcase the group's summer comeback.
It will be followed by the other parts, "Sixth Sense" and "Love Letter," this 2023.
THE BOYZ debuted in December 2017 with its lead single, "Boy," from its debut EP, "The First."
The group debuted with 12 members, including Sangyeon, Jacob, Younghoon, Hyunjae, Juyeon, Kevin, New, Q, Ju Haknyeon, Sunwoo, Eric and Hwall. However, Hwall departed the group in October 2019 due to various health reasons.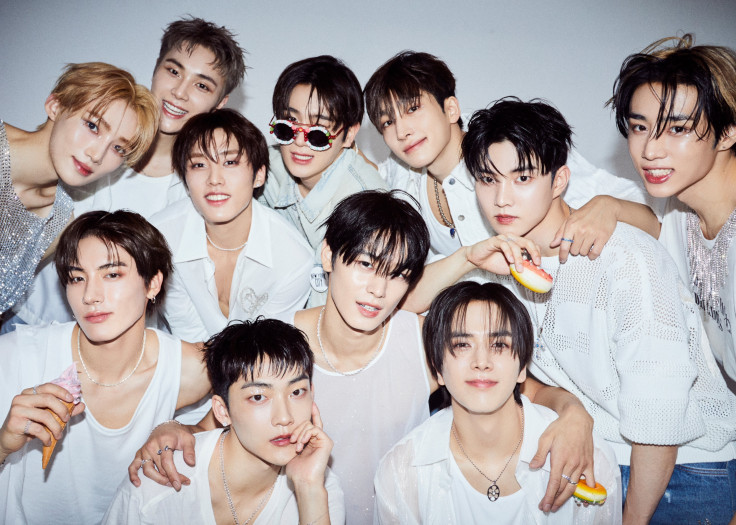 © Copyright IBTimes 2023. All rights reserved.