Watch: Drone Footage Shows Greece Underwater Amid Flooding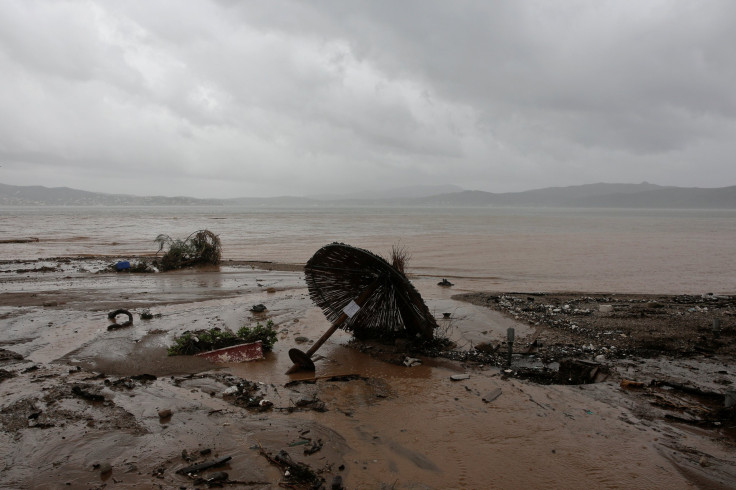 Widespread devastation in Athens, Greece, was depicted Thursday in new drone footage following heavy flooding and violent storms. The destruction has left many surrounding areas underwater in what Mandra Mayor Yianna Krikouki called a "biblical" flood.
Several regions in Greece have faced inclement weather for about a week. The situation escalated when heavy rain resulted in severe flooding Wednesday night. The death toll has risen to at least 16, and at least four civilians are reportedly still missing.
The footage captured streets and highways that were covered with debris. Red, muddy inundation appeared to overwhelm the affected region. The flooding has also caused damage to roughly 500 homes and business.
Mandra, Nea Peramos and Megara were the most affected cities. Residents in Mandra were trapped in their homes, where the water has reportedly risen to about 3 feet. Many of the affected civilians are left without electricity or water.
"Everything is lost. The disaster is biblical," Krikouki said while speaking on Greek radio, according to the Telegraph. "We have people who are trapped... we need machinery to get them out of their homes."
The fire department reportedly received more than 660 calls from residents in affected regions, according to Associated Press. The callers requested help, with many wanting to have water pumped Wednesday from their flooded homes and businesses. The fire department managed to rescue 88 people from their flooded homes and vehicles.
"It is a very difficult time for all of Greece. We are experiencing a great disaster," Prime Minister Alexis Tsipras said Wednesday, according to ERT. "We mourn 14 dead in Mandra and Nea Peramos. Our wish is that this number does not grow. I want to express my deep sorrow, sincere condolences to the families of the victims."
Conditions aren't expected to improve across the European country as more rainfall is expected over the course of the next few days. Areas that have already been impacted by the storm's presence are at a high risk for additional flooding.
Greece is no stranger to the devastation of flash floods. While the country has seen the impact of flooding in 2015 and 2016, Greece experienced a storm in 1999 similar to Wednesday's. Megara Mayor Grigoris Stamoulis compared the two storms Wednesday, saying: "We had another incident in 1999 but it was nothing like this."
© Copyright IBTimes 2023. All rights reserved.
FOLLOW MORE IBT NEWS ON THE BELOW CHANNELS