WATCH: ENHYPEN's Jungwon And Jay Dance SB19's 'Gento'; Join Viral TikTok Trend
KEY POINTS
Several K-Pop idols are jumping on P-Pop group SB19's "Gento" dance craze
"Gento" was released in May as part of SB19's "PAGTATAG!" EP
ENHYPEN's Jungwon and Jay danced to "Gento" during a Weverse livestream
ENHYPEN members Jungwon and Jay are now added to the growing list of K-Pop idols dancing to Filipino pop boy band SB19's hit song "Gento."
On Thursday, ENHYPEN bandmates Jungwon and Jay had a 38-minute livestream on Weverse to have a virtual chat with their fans, ENGENEs.
In one part of the live broadcast, Jungwon shared that he uploaded his entry to the "Gento" dance challenge on TikTok. He also revealed that he was supposed to film it with Heeseung.
After that, Jungwon and Jay did the "Gento" dance steps while the former mumbled the Filipino lyrics of the song's chorus.
The "Gento" dance challenge video Jungwon talked about in his Weverse Live with Jay already has over 5 million views on TikTok. It also received over 1.7 million hearts, 173,100 bookmarks and 81,500 comments.
Popular personalities, including Filipina actress Mona Alawi and singer-dancer AC Bonifacio, left "oh my god" comments on Jungwon's video. Meanwhile, DIVE Studios' account commented saying Jungwon ate the dance.
SB19 replied "⚠️🔥🔥🔥" to Jungwon's "Gento" dance challenge entry when it was shared on Twitter.
The "Gento" TikTok dance trend continues to dominate South Korea, most notably the K-Pop industry, with several idols jumping on the craze.
K-Pop idols who joined the "Gento" dance challenge on TikTok include ZEROBASONE's Sung Han Bin and Park Gun-wook, BAE173's J-Min, Lee Han-gyul and Muzin, TIOT's Kim Min-seoung, MCND's BIC and Huijun, THE BOYZ's Juyeon and Sunwoo, 8Turn's Myungho, Minho and Yungyu, ATEEZ's San, ONEUS' Hwanwoong and Leedo, WEi's Kim Yo-han and ATBO's Ryu Junmin and Jeong Seunghwan.
Other South Korean personalities like singer-songwriter Oh Sae-bom, TikTok star Vincent Hsu and fashion model Haesung also joined in on the "Gento" dance craze.
"Gento" is a pop, hip-hop track recorded by Filipino boy band SB19 for its second EP, "PAGTATAG!" The song, which talks about empowerment, was written by SB19's leader Pablo and co-produced by Joshua Daniel Nase and Simon Servida.
In the song, Pablo used gold mining and refining gold as a metaphor for achieving success.
The inviting dance steps of the chorus of "Gento" attracted many to join the dance challenge on TikTok, regardless of age, gender and race.
With its continuously growing popularity, "Gento" by SB19 has been nominated in the Song of the Year category of #TikTokAwardsPH2023.
It is competing against other OPM songs, including "Ikaw Lang" by Nobita, "LDR" by Shoti, "Paligoy-ligoy" by Nadine Lustre, "Uhaw" by Dilaw, "Muli" by Ace Banzuelo, "Na Na Na" by Bini and "Jopay" by Mayonnaise.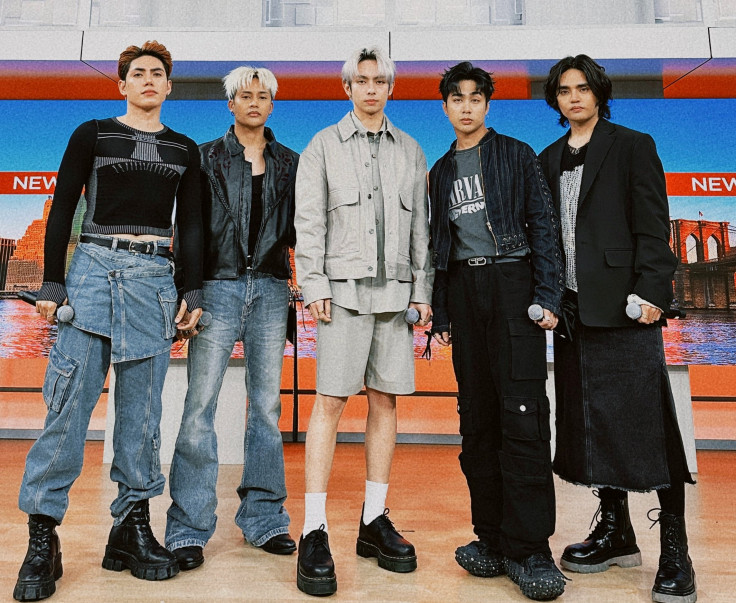 © Copyright IBTimes 2023. All rights reserved.