Watch Faces In Beautiful Blues
Sponsored content from Modern Luxury
Luxury watches have long outgrown their status as a utilitarian accessory, but they have always had another side to them as well: the sparkly, sexy gleam of diamonds and other jewels. Elite jewelry brands are keenly aware of this crossover, with many well-known jewelers bringing their particular sets of skills to the watchmaking arena. A hint—or wave—of blue connects these disparate visions.
The premier Precious Lace collection presents a breathtaking glimpse of Harry Winston's artistry, pairing a blue mother-of-pearl dial with yellow mother-of-pearl lacework and 35 marquise-cut diamonds in a radiant design. Living up to Harry Winston's nickname as the "King of Diamonds," this model also sports 386 brilliant-cut diamonds on its 18K rose-gold bracelet and case.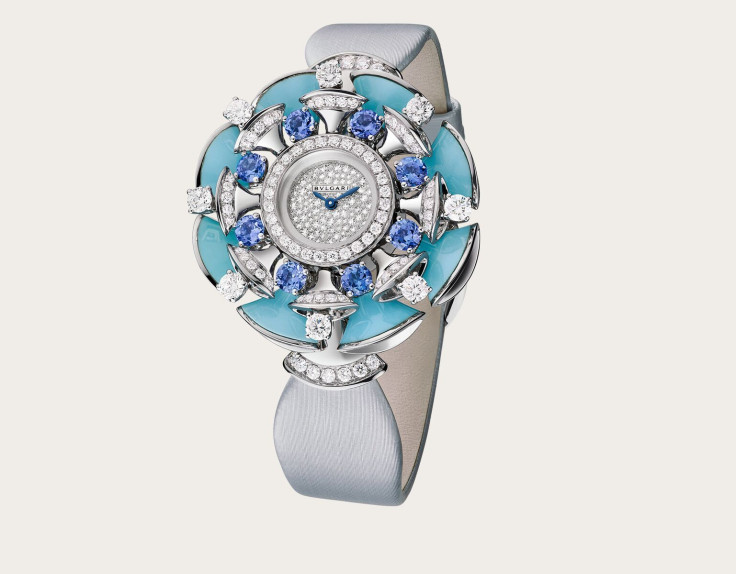 De GRISOGONO's exuberant design philosophy shines through its Grappoli collection, which takes its name from the resemblance of its briolette-cut gemstones to luscious bunches of grapes. Available in a rainbow of shades, this model—a Baby Grappoli—bursts its bounds with a graduated fringe of aquamarine briolettes framing a snow-set dial and case with blue sapphires and black rhodium grains. The snow-setting process, in which the gem-setter places each stone one at a time in relation to its neighbors, without an explicit plan beforehand, creates an organic-looking surface that echoes the matching galuchat strap.
The candy colors and generous volumes of Bulgari's signature jewels make it seem dreadfully unfair that these pieces, though irresistible, remain obstinately inedible. The jeweler works its magic on its watches as well, creating a quasi-floral piece with the help of brilliant-cut diamonds, tanzanites and a frill of fan-shaped turquoise. The petite dial, at the center of an orderly unfurling of precious materials, scintillates with a generous helping of diamonds.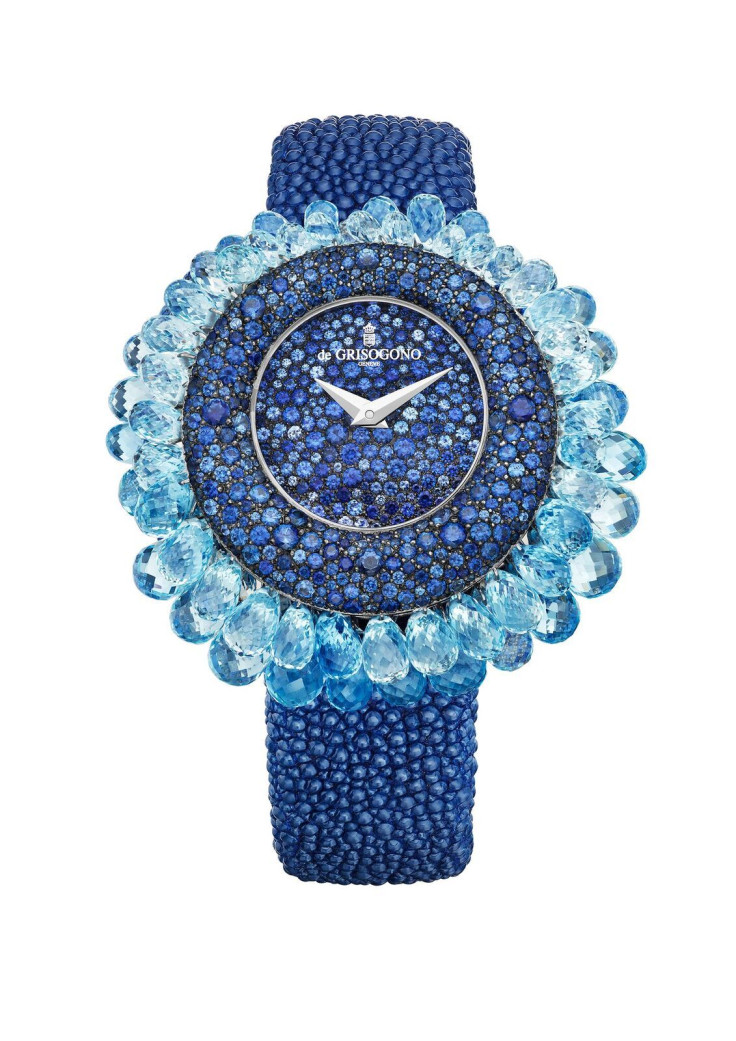 With a history stretching back to the beginning of the 19th century, Chaumet brings timeless elegance to its watches as well as its jewelry. Its Lumières d'Eau ("water lights") collection delves into the wild, weird beauty of the underwater natural world, with the Splash model hinting at the hasty exit of a startled… mermaid? Combining gem-setting and hardstone marquetry, this wonder took more than 150 hours to set the gems and prepare and polish the vibrant slices of jade.
Boucheron presents us with another underwater glimpse, this time of a perfectly symmetrical sea urchin. Drawing invisible lines of connection with cool tones and a sly contrast of straight lines (radiating out from the center) and rounded edges (rounded sapphires, cabochons in gold or lacquer), the Epure Oursin takes a semi-realist approach to recreating nature even as the design tends toward abstraction.