WATCH: 'New York Living' Hosts Call SB19 'Good Smelling, Gorgeous Individuals'
KEY POINTS
The Filipino boy band appeared on PIX11's "New York Living" morning show
The hosts introduced SB19 as "very talented, very gifted and good smelling, gorgeous individuals"
SB19 performed its hit song "Gento" on the New York City lifestyle show
SB19's charms did not go unnoticed as renowned American news anchors gushed over the members' stunning visuals on national television.
During a guest appearance on PIX11's "New York Living" morning show on Tuesday, the Pinoy pop band was given quite a unique introduction by hosts Marysol Castro and Alex Lee, who were evidently smitten by the boys. Aside from calling them the "No. 1 Filipino boy band," the hosts described them as "very talented, very gifted and good smelling, gorgeous individuals."
As soon as Pablo, Josh, Stell, Ken and Justin made it to the studio's stage, they were excitedly greeted by the hosts. Lee quipped, "I can't even believe we are standing next to a boy band right now." Meanwhile, Castro clarified that it was true that SB19 smelled "really, really good."
Elsewhere on the show, the hosts asked SB19 members several questions about themselves, including how they were formed and how they felt about "breaking barriers" in the P-Pop industry.
Justin revealed that he and the members were friends at first, and they met again during the auditions of their former agency, ShowBT Philippines, which also surprised the hosts. Pablo, for his part, shared how they felt about making a name for themselves in the international scene, saying that they were grateful to be recognized for their talents and hard work.
Stell also opened up about who they are behind the "glitz and glamour" of being artists, saying that they are just "simple" guys from the Philippines who love to eat street food and go to the mall every day, especially now that they are staying in New York where they have more free time to have fun and "cherish every moment together."
After the short interview, SB19 performed its latest hit track, "Gento," which was released in May ahead of its "PAGTATAG!" EP. Though the boys experienced technical difficulties, the live studio audience erupted in cheers as the hosts were awestruck by the group's performance.
Lee also revealed that they never got visitors on set, but one of their fellow news anchors, John Muller, made sure to watch their show because his daughter, who is half Filipino, was a huge fan of SB19.
Fans — known as A'TIN — also flocked to the comments section of the broadcast, which was uploaded on PIX11 News' official YouTube channel. Many expressed how proud they were that the boys got featured in several morning shows in the U.S. and praised them for slaying the performance.
"Three broadcasting shows during their 'PAGTATAG!' tour. So proud of our mahalima! Despite the technical difficulties and being on this type of [stage that] isn't really made for performances like this, you all did great and showed why you'll nicknamed as 'live monsters'! Thank you, PIX11 News for having our SB19! Also, thank you to these great anchors who welcomed them greatly! Thank you very much," one user commented.
Another wrote, "GUYS, I'M TELLING YOU WITH THESE VOCALS? THEY DEFINITELY EAT THEIR CDs every day! No pre-recorder backtracks, no backup dancers, just pure talent. YEP, OUR DEAR SB19."
"We are so proud of you, SB19! Keep soaring high, and we will not get tired of supporting you. Thank you so much to the hosts. You made them feel welcome and relaxed. We truly appreciate it," a third user added.
SB19 recently concluded the North American leg of its "PAGTATAG!" world tour. Before heading back to the Philippines, the group is set to join American singer-songwriter JVKE on the latter's "The End of Tour" concert at the House of Blues in Boston this coming weekend.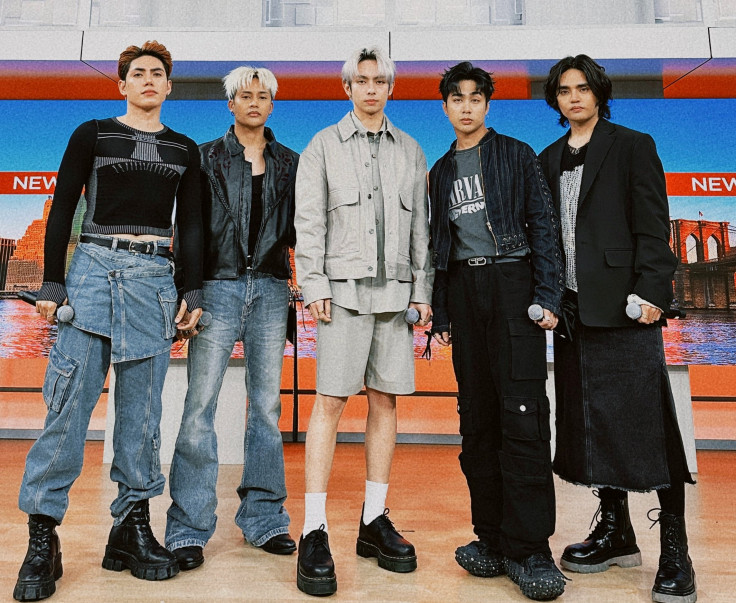 © Copyright IBTimes 2023. All rights reserved.