WATCH: SB19 Candidly Discuss How Many Underwear They Pack During Tour; Pablo Has The Most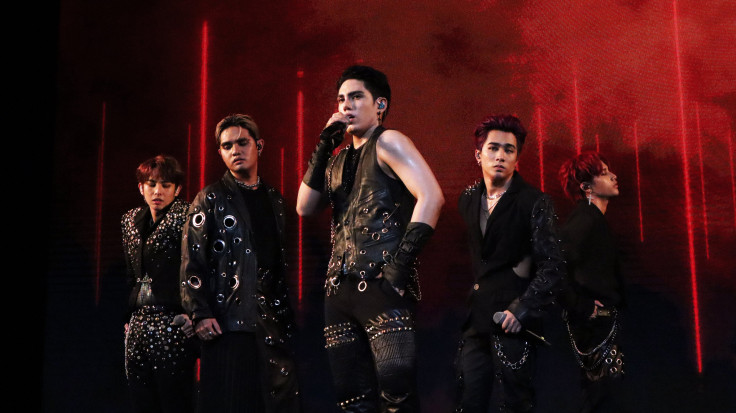 KEY POINTS
P-Pop group SB19 is on its "Pagtatag!" world tour across the U.S. and Canada
Its fans, A'TIN, won Billboard's Fan Army Face-Off, beating SEVENTEEN's Carats
The SB19 members had a live broadcast where they had a candid chat with fans
SB19 members, who are currently in the U.S. for their "Pagtatag!" world tour, met their fans virtually to congratulate them for their victory at the 2023 Billboard Fan Army Face-Off after a head-to-head final battle with K-Pop boy group SEVENTEEN's fans, Carats.
But while the members were serious and sincere in congratulating A'TIN — SB19's fandom — for their win, like the goofy guys they usually are, the live broadcast turned candid and hilarious when Stell nonchalantly talked about underwear during the livestream.
"Hi, A'TIN. Congratulations to everyone!" said SB19's leader Pablo, while the other four members screamed in the background.
"The competition was tough. We were talking about it, that the [Billboard Fan Army Face-Off] was intense... SEVENTEEN's fandom is strong," Pablo continued.
Meanwhile, Stell, the Pinoy pop group's main vocalist, shared that he didn't expect the victory because being nominated and reaching the semi-finals was already an honor.
"The nomination and being able to reach the semi-finals is enough because the group was already recognized. But, we won," he said.
Then things took a humorous turn when Stell randomly said in Tagalog, "Hi, guys! I no longer have briefs. They were all in the laundry."
The other members then laughed, and Ken, the group's main dancer, quipped, "Thank you for sharing!"
Justin, the group's youngest member, shared that he still has a lot. But he no longer has black socks. Josh, SB19's lead rapper, said, "Same!"
Meanwhile, Pablo revealed that he still has a lot of underwear left. "Thirty-two!" he answered Stell when his bandmate asked how many pieces of underwear he brought for the tour.
"[I have a brief for] every day of the month with one extra," he further explained, which Josh questioned. "Is that serious? What the hell? Is that all that's inside your luggage?"
Josh hilariously suggested that Pablo didn't need to bring a lot because he could re-wear them, saying, "You can use the side b, side c."
The five-member Filipino boy band debuted with its first single, "Tilaluha," in October 2018 and has since gained global popularity.
SB19, the first Southeast Asian act to enter the top 10 of Billboard's Social 50 weekly and year-end charts, is currently on its second world tour, titled "Pagtatag!" It kicked off at the Araneta Coliseum in the Philippines on June 24 and 25.
While in the U.S., SB19 continues to make Pinoy pop music known to the world after appearing as a guest on "Good Day New York" this week.
SB19 is also halfway through its world tour after its successful North American concerts in Chicago, Dallas, San Francisco, Los Angeles, New York and Washington, D.C.
The Billboard-recognized artist will kick off the Canada leg of its North American tour on Friday in Toronto, followed by performances in Winnipeg, Vancouver and Edmonton.
© Copyright IBTimes 2023. All rights reserved.