Watch: 'Star Wars' Chewbacca Joins Texas Police Department In New Viral Video
A police department in Fort Worth, Texas, posted a welcome video Wednesday for its new officers that featured Chewbacca the Wookie from the "Star Wars" franchise. The Fort Worth Police Department's (FWPD) video has gone viral after raking in more than 1.5 million views on Facebook and over 3,100 on YouTube.
The FWPD has created and published multiple fun videos for new recruits, with its latest video featuring Chewbacca being no exception to this. The video shows Chewbacca during his first day of training after losing former partner Han Solo, which didn't appear to go very well. The Wookie tends to find himself in hot water in a variety of scenarios on his "tough" first day.
"We know things have been tough for Chewbacca lately," the FWPD said Wednesday on Twitter. "We hoped that we could find a place for him within our Department. Did it go well? You decide."
We know things have been tough for Chewbacca lately.
We hoped that we could find a place for him within our Department.
Did it go well? You decide.#StarWarsTheLastJedi #FortWorth pic.twitter.com/AsSLHkzTop

— Fort Worth Police (@fortworthpd) November 29, 2017
Officer Jimmy is assigned to train Chewbacca at the video's beginning, but the Wookie appeared to fail at all tasks given to him. Chewbacca was first asked to issue a warning to a female driver but managed to shake her car out of frustration over her inability to understand what he was saying. He also yanked off a fellow officer's arm and blew up a target during a firing practice, among other things.
Chewbacca appeared to look defeated after the day was through.
"Attention rookies! Welcome to the Fort Worth Police Department," a message read in the video's conclusion. "Remember to always show courtesy and respect to our citizens and always provide professional service. And may the force be with you."
The FWPD's latest welcome effort appeared to have garnered mostly positive feedback from viewers. Many social media users claimed that the video was "awesome" or "great," but there were others who argued that it was "nonsense."
"I love the things FWPD is doing with these videos," one commenter wrote on Facebook. "It can make a difference in the way law enforcement is looked at!! Thank you."
"I hope tax dollars aren't going to this nonsense....You guys have great day taking advantage of the less fortunate, poor, and the greater American people," a second user wrote.
"Thank you, Ft Worth PD for letting your officers and staff experience fun," another user commented. "You set the bar of what other departments need to reach. Your morale with them goes along way."
This wouldn't be the first time that FWPD has created a training video that featured Star Wars characters. The Texas-based police department posted a video in 2016 that depicted a Stormtrooper brushing up on his skills at the firing range. The FWPD also shared a video in 2015 of a job interview with Darth Vader.
"The idea for the Star Wars videos started back in Dec. 2015 because Officer Brad Perez, who has created all of the Star Wars videos for the Department, has a brother who has several Star Wars costumes," the FWPD said Friday to International Business Times. "Brad thought it would be a funny video to see Darth Vader applying for a job...[He] had no idea that his video was going to get over a million views."
"We don't know if we will be able to keep this up every year for every Star Wars movie, but as long as we have access to these great costumes and we keep coming up with what we believe are great ideas, we will try to make this a yearly tradition," the FWPD added.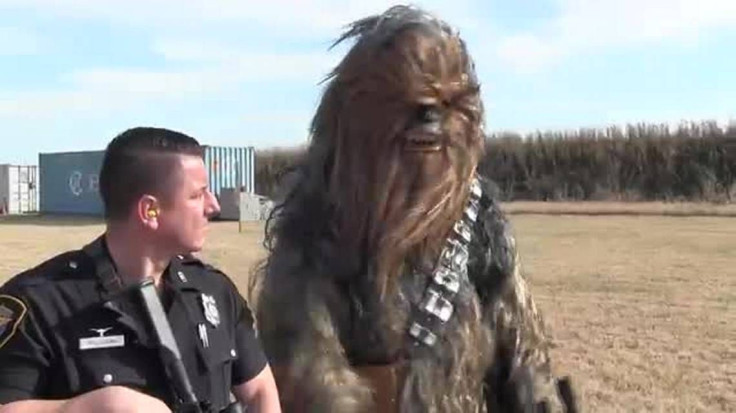 © Copyright IBTimes 2023. All rights reserved.