WATCH: Stray Kids' Felix Strips Down On Stage, Reveals New Back Tattoos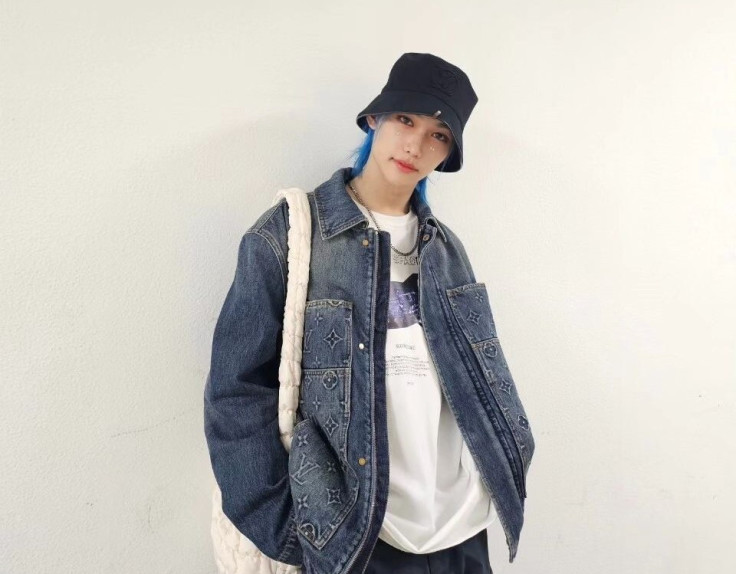 KEY POINTS
Felix went viral on Twitter after exposing his new back tattoo
Felix showed off his wings tattoo during his solo stage in Japan
Stray Kids is currently on its "5-STAR DOME TOUR"
Felix stunned fans — known as STAYs — worldwide after clips of him exposing his back tattoos during a Stray Kids' concert in Japan went viral online.
On Wednesday night, the eight-member South Korean pop boy band kicked off its "5-STAR DOME TOUR" at the PayPay Dome in Fukuoka in support of its third full-length album of the same name. There, Stray Kids performed its new songs and hits from its earlier releases.
Though the group was praised for giving a "wonderful" performance, one member's solo stage caught the attention of fans, who went crazy online after he debuted his new back tattoo before the crowd. It's none other than the 22-year-old leader rapper Felix.
In a video uploaded by Twitter user @peachyniellie, Felix was seen getting ready for his solo performance, being assisted by his backup dancers to change his outfit. To the crowd's surprise, he actually stripped off his shirt and showed off his wings tattoo before starting the verse of an unreleased rap song. The caption read, "Felix getting stripped down on stage revealing wings tattoo on his back and then delivering the 'c*ntiest' solo stage. Oh, I feel sick, I need to be there."
More videos of his solo stage have since circulated online, and fans couldn't help but gush over the moment.
"Felix literally having a back tattoo, that [deep] oceanic voice of his, he's freaking half shirtless on stage and that gaze... [what the f—k] he really wants all of us to be [the f—k] GONE I'M GOING INSANE," one user wrote, adding a clip of the rapper's performance.
Another wrote, "FELIX'S SOLO STAGE DANCE BREAK AND THE VOCALS!!!!? OH, HE ATE THIS UP."
"LEE FELIX's choreography, voice, song, outfit, tattoo... literally everything was perfection," a third user praised the Stray Kids member.
One fan, with the handle @felixsbrowni3, observed that Felix might have given a hint about his new tattoo through Bubble — an interactive app where JYP Entertainment artists communicate with the fans — before the Japan tour since he posted an emoji of the angel wings there.
"Wait [what] Felix randomly sending the angel wings emoji on Bubble a spoiler for his solo stage this entire time," the user wrote, attaching a screenshot of Felix's Bubble message.
Some fans, however, debated if the tattoo was real, claiming it didn't look "healed." But they clarified his other back tattoos seemed more real.
"Not sure if the wings Felix has on his back are actually real [because] they don't look like a healed tattoo since there's a reflection, and this happens with the fake ones, but the one on the left, well, that one seems like a real tattoo," one user observed.
Stray Kids is scheduled to perform at the PayPay Dome again Thursday before heading to Nagoya, Osaka, Seoul and Tokyo for the rest of the tour, which will run until the end of October.
© Copyright IBTimes 2023. All rights reserved.