WATCH: Suga, V Discuss BTS 'Chapter 2,' Next Tour And 'Taking Our Shirts Off'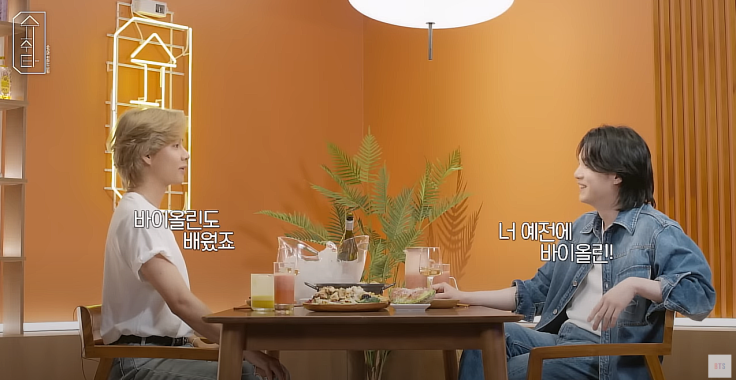 KEY POINTS
V recently made his "Suchwita" debut
He and Suga discussed the future of BTS as a group
V knows of a certain fan theory among ARMYs
V finally made an appearance on his bandmate Suga's "Suchwita" show, and the duo couldn't help but go over the possible scenarios of BTS' highly anticipated reunion for "Chapter 2," hopefully by 2025.
In the latest episode of the 30-year-old "Daechwita" hitmaker's talk show, uploaded via YouTube Monday, the 27-year-old South Korean artist caught up with the former, talking about their latest endeavors and solo music releases. Interestingly, they also spoke about the future of BTS.
While talking about V's new album, which featured the R&B genre, Suga noticed that all seven members had different vibes when it came to music. He said, "Our team is so cool in that the charms of all seven of us are so different, and we all have different things we're good at. So, I thought us being together brought about really good synergy."
The "Love Me Again" hitmaker agreed with his sentiments, explaining that it was better that their music styles were different and joked that it was "all similar" then it would have been "weird."
"It was so good that the seven of us met, and what I can see from our solo tracks is when we gather together, I think the charms of the songs will double," V added.
To which Suga responded, "But for real, I can't imagine what will happen when we gather together after our solo endeavors because we're so different." The duo also discussed that their future tour as BTS would probably have a long set list since their solo music alone was already "stacked."
Speaking of going on tour, V shared that he saw how Suga had "fun" during his "D-Day" world tour and thought it was "cool." The latter then shared that he always made sure to interact with the fans while doing their fixed performances, which was a trait that BTS "wrestled upon."
Suga shared that he loved their "Yet To Come" Busan concert in 2022 so much since it did have the perfect balance. He added, "So the next time all of us go on tour together, I want it to be us just having fun."
Meanwhile, V predicted that their style regarding tours and the stages would change, leading the rapper to suggest that BTS will be "breaking" stereotypes in the next chapter.
Also on the show, V brought up one of the fan theories about BTS' next chapter circulating online over the past year.
Some fans — known as ARMYs — have joked that "Chapter 2" would be about taking their shirts off since the members have been showing off their toned bodies for the concept photos of their solo albums, latest Instagram updates and solo endorsement projects. A collage of photos was uploaded by Twitter users @taebokkiii and @winntaebear.
"I saw that there are [ARMYs] who think that 'Chapter 2' is about taking our shirts off," V said. Suga agreed that some members did show some skin, most notably Jungkook and Jimin.
V continued, "But I repeat... 'Chapter 2' has nothing to do with taking our shirts off."
© Copyright IBTimes 2023. All rights reserved.