Watch TXT's Soobin Do Hilarious 'Manner Hands' While Hugging Coi Leray During US Tour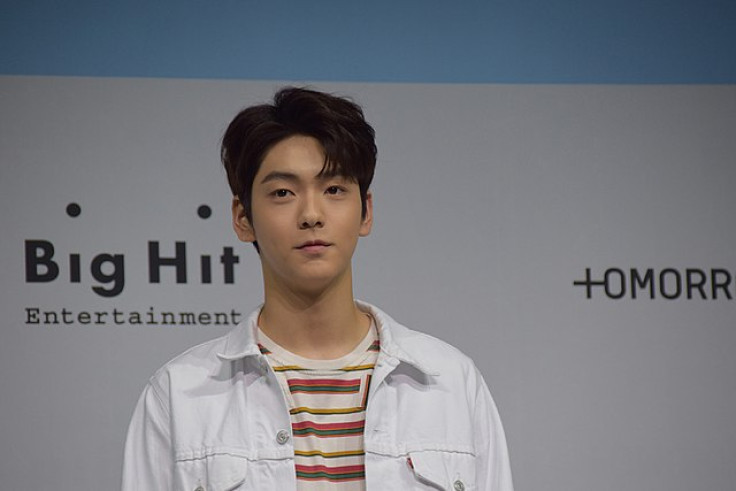 KEY POINTS
TXT's Soobin caught the attention of fans for doing the "manner hands" gesture with Coi Leray
Soobin hugged the air instead of resting his hands on Leray as part of South Korean etiquette
TXT concluded the U.S. leg of its "Act: Sweet Mirage" world tour in Los Angeles, California
Tomorrow x Together (TXT) member Soobin went viral on Twitter following his hilarious "manner hands" gesture while hugging American rapper Coi Leray.
The five-member South Korean pop group, which debuted under BigHit Music in 2019, concluded the U.S. leg of its "Act: Sweet Mirage" world tour over the weekend with a back-to-back show at the BMO Stadium in Los Angeles, California.
To the concertgoers' surprise, TXT brought the 26-year-old "Players" singer on stage to perform their collaboration single "Happy Fools," which was featured in the group's latest album, "The Name Chapter: Temptation," on the last day of the trek, on Sunday.
They performed the featured single live for the first time, and it sparked massive excitement from fans — known as MOA.
Though the performance was highly anticipated, a post-performance interaction between member Soobin and Leray was what caught the attention of the fans. As the latter was about to leave the stage, she went to hug all five members goodbye, including Yeonjun, Beomgyu, Taehyun, Huening Kai, and Soobin, as seen in a video shared by Twitter user @KFAMMedia.
Fans immediately noticed that the 22-year-old leader of the group maintained a distance between his hand and Leray's body while leaning in for a hug, often referred to as "manner hands."
The gesture is considered a form of etiquette in South Korea, and it usually refers to the manner of greeting people or using their hands to protect the modesty of themselves or others, especially for public figures in the limelight, according to Koreaboo. Hence, male celebrities often hover their hands in the air instead of resting them on a woman's body when posing for pictures or hugging.
Following Soobin's respectful gesture, social media users took to Twitter to share their reactions, and some even joked that the singer-dancer hugged the air instead because of the large gap.
"Look at Soobin's hands hugging the air I AM CRYINGSHSJJKGJ," one user wrote, attaching a photo of the hug.
Another commented, "SOOBIN'S MANNER HANDS. He's such a gentleman. I love him [so much]."
"Soob's hug is so far away from her!!! I'm crying it's so [cute]," a third user said, while another quipped, "Soobs doing the manner hands [one kilometer] away in the air [oh my gosh]."
TXT is scheduled to perform again at the Kyocera Dome in Osaka, Japan, with a two-night show on July 1 to 2, before jetting off to Indonesia and the Philippines for the "Act: Sweet Mirage" world tour in August. More tour dates will be announced on Big Hit Music's official website soon.

© Copyright IBTimes 2023. All rights reserved.