Watching Republican Presidential Debate 2015: Start Time, TV Channel, Radio Info For Fourth GOP Debate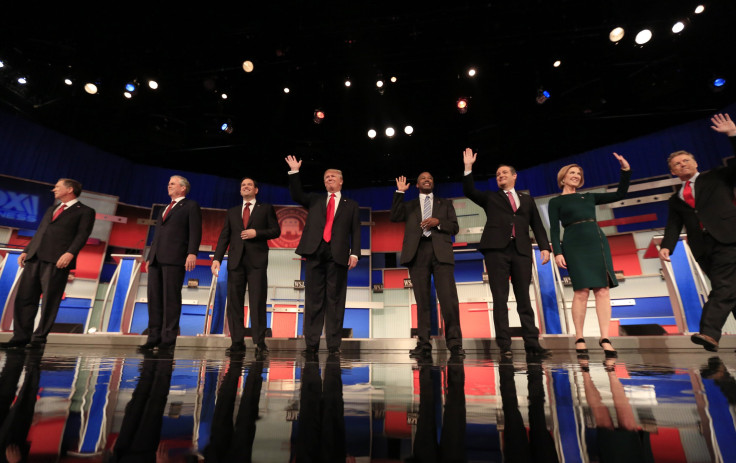 The eight top-polling Republican candidates who took the stage in Milwaukee Tuesday for their fourth debate face significant pressure to build support, three months out from the first voting in Iowa.
The candidates appearing in the primetime debate Tuesday are former Hewlett-Packard CEO Carly Fiorina, former Florida Gov. Jeb Bush, U.S. Sen. Ted Cruz of Texas, U.S. Sen. Marco Rubio of Florida, businessman Donald Trump, retired neurosurgeon Ben Carson, U.S. Sen. Rand Paul of Kentucky and Ohio Gov. John Kasich.
As political observers saw it, each of the candidates on the main stage had a mission to accomplish.
Bush, his campaign floundering after three weak performances, needed to be crisp and show energy to reassure wavering donors and stop the punditry that has declared his candidacy all but dead.
Cruz and Rubio, the widely declared "winners" of the last debate, need to continue their strong performances and try to inflict some damage on each other. (While Carson and Trump lead in polling, the conventional wisdom still holds that their "outsider" candidacies will ultimately collapse and that Rubio and Cruz will fight it out for the nomination.)
Presidential Candidates | InsideGov
Trump seemed to disappear for large stretches in the two previous debates, and has lost the lead in some national polls to Carson. Trump needs to regain the energy -- and may be the candidate with the least to lose in going after his rivals, especially Carson. Since he has touted his skills as a negotiator and business leader, he will have a chance to showcase his economic expertise in the Fox Business-hosted debate. So far, he hasn't offered much detail on his economic platform or policies.
Carson himself has faced unexpected scrutiny of some details of his biography. He's successfully turned the criticism back against the media, and is likely to do that again.
Fiorina's strong performance in the first debate won her a promotion to the main stage. But the "bumps" in support she received after each debate have proved short-lived. She needs another strong performance, especially since the subject is the economy and her selling point is her business career.
Kasich and Paul need to perform well enough to keep their position on the main stage and not face the same fate as New Jersey Gov. Chris Christie and former Arkansas Gov. Mike Huckabee, who were relegated to the undercard debate this round. Christie's strong performance in the earlier debate Tuesday evening may propel him back to the main group.
Candidates were required to have support from at least 2.5 percent of poll respondents in the four most recent national polls by Nov. 4 to qualify for Tuesday's debate. The four most recent major polls conducted before the Nov. 4 cutoff were from Fox News, Quinnipiac, NBC/Wall Street Journal, and CBS/New York Times.
Former New York Gov. George Pataki and U.S. Sen. Lindsey Graham of South Carolina were not invited to participate in the earlier forum due to their low poll numbers.
The top-tier GOP debate aired on Fox Business Network at 9 p.m. EST from the Milwaukee Theater in Milwaukee.
Gerard Baker, Neil Cavuto and Maria Bartiromo were all tapped to moderate. Fox Business Network and the Wall Street Journal hosted the fourth GOP debate.
Fox Business Network is hosting the debate, and has worked with TV companies to give most cable and satellite subscribers access to the channel for the duration of the debate.
Anyone can live stream the debate for free on FoxNews.com or FoxBusiness.com. The debate can be followed on Fox News Radio.
© Copyright IBTimes 2023. All rights reserved.
FOLLOW MORE IBT NEWS ON THE BELOW CHANNELS