What Is Alibaba? Meet The Chinese Company Poised To Make The Largest IPO Of All Time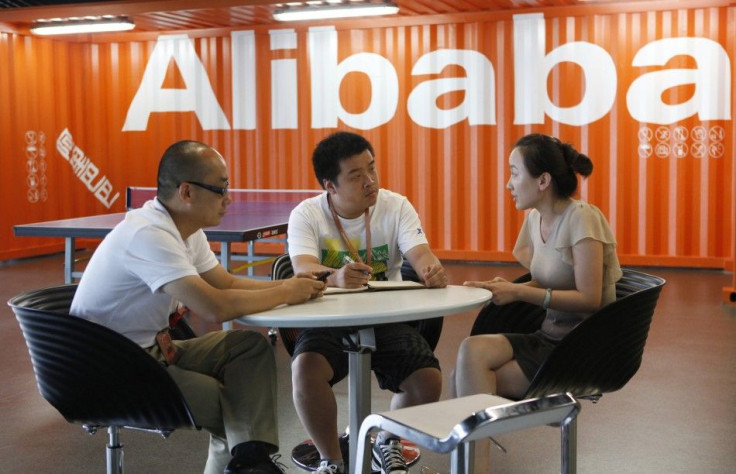 It may be about to launch the largest initial public offering in history and has long been a household name in China, but Alibaba remains unknown to most Americans.
The 15-year-old Chinese e-commerce giant, which dwarfs its competitors with hundreds of millions of users, is bigger than eBay and Amazon combined. Since it was launched by former English teacher Jack Ma in 1998, the company has grown exponentially, feeding the appetite of a growing consumer class in China for products from Nike sneakers to high-end jewelry not readily available in stores.
Alibaba mainly consists of two big shopping websites: Taobao, a consumer-to-consumer marketplace launched to compete with eBay in China, and Taobao Mall (or Tmall), an Amazon-like market that allows Chinese consumers to purchase directly from brands. Along with Juhuasuan, a Groupon-like group-buying marketplace, those sites make up more than 80 percent of Alibaba's revenue.
Simply put, Alibaba is the largest e-commerce company in China, which places it high in the running for largest worldwide. Alibaba's various marketplaces and platforms have hundreds of millions of users and handled more transactions in 2013 than eBay and Amazon put together.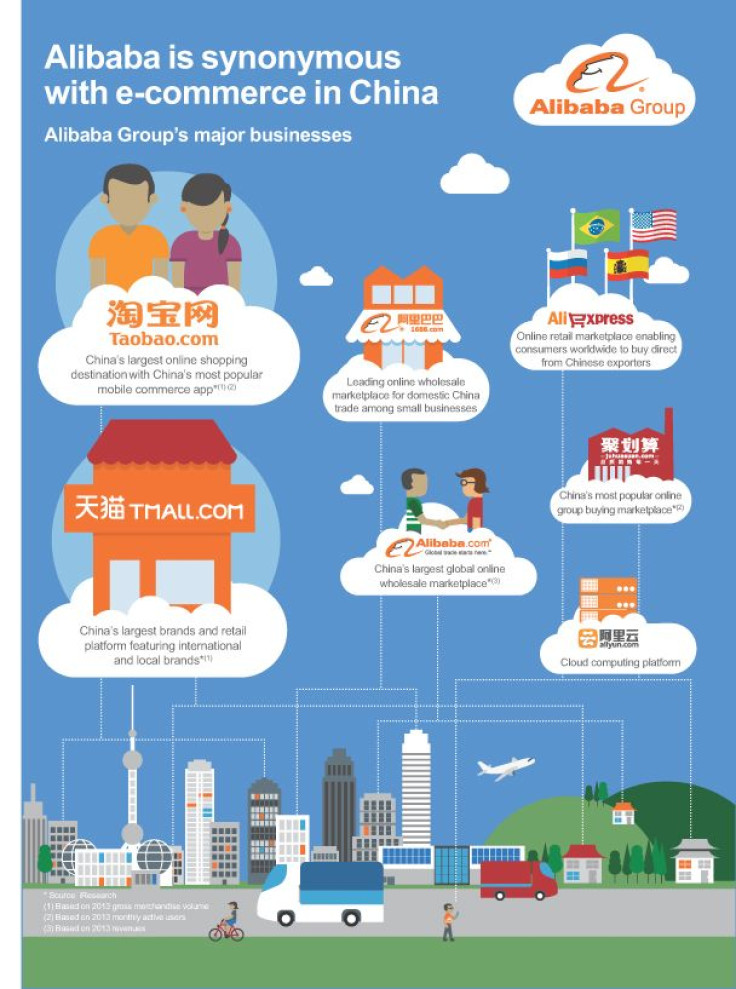 Western brands have flocked to the portal to sell to Chinese, and though it's also a global marketplace where users around the world can shop on the company's sites, Alibaba hasn't caught on in the U.S. -- yet.
But saying Alibaba does only e-commerce is like saying Google is only a search engine. The company has dozens of business verticals that run the gamut of the modern Web, ranging from cloud services and microblogging to travel booking and e-learning, as outlined in this chart from Quartz.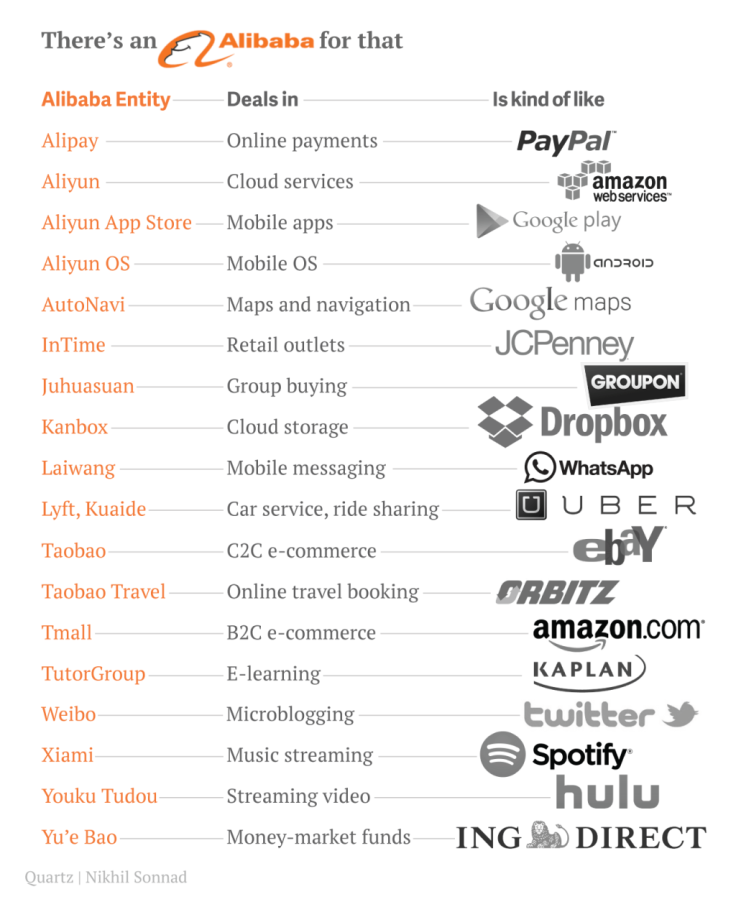 Founder Ma, 49, started the company out of his apartment after getting intrigued by the Internet while on a trip to the U.S. Now the former teacher is one of China's best-known celebrities, whose speeches go viral on social media. He stepped down as CEO in January 2013 but still owns 8.9 percent of Alibaba and remains the company's spiritual leader.
When Alibaba submitted a prospectus for an IPO, Ma sent a letter to employees about his philosophy for Alibaba. Compared to Google's "Don't be evil," Ma's emphasis is on always putting customers ahead of shareholders.
"Lying behind the massive allure of the capital market, there is unparalleled ruthlessness and pressure," Ma said, according to a Wall Street Journal translation. "We will continue to adhere to the principle of 'customers first, employees second, shareholders third."
As with tech companies in the U.S., Alibaba's future success relies largely on mobile. In the fourth quarter of 2013, nearly 20 percent of all Alibaba transactions came from mobile devices, a 7.4 percent increase year-over-year. Alibaba also claimed that 76.2 percent of all mobile e-commerce in China last year was done through one of its sites.
However, Alibaba faces stiff competition in the Chinese mobile market from Tencent, the company that owns WeChat -- a mobile messaging app with about 355 million users -- and has a significant presence in PC and mobile gaming. Tencent is investing heavily in many areas to remain competitive with Alibaba.
In Alibaba's SEC filing, it noted that a major challenge would be monetizing mobile traffic and adapting the business to meet the changing behavior of mobile users.
The company may not be a household name in the States, but it does have ties with U.S. companies besides all those major retail brands. Yahoo Inc. has several partnerships with Alibaba and formerly held a 40 percent stake in the Chinese company. Even after a $7.1 billion stock buyback closed in September 2012, Yahoo still owns 24 percent of it.
Yahoo CEO Marissa Meyer is expected to comment on the Alibaba partnership on Wednesday at the Disrupt NY event in New York.
© Copyright IBTimes 2023. All rights reserved.