What Caused Betelgeuse's 'Great Dimming'? Scientists Say A Random Visitor May Be Behind It
KEY POINTS
Betelgeuse dimmed by 60% in late 2019
A fly-by object may have changed the shape of Betelgeuse's outer atmosphere
The random visitor may have been a black hole, a neutron star or a white dwarf
The "great dimming" of Betelgeuse has been puzzling scientists since its occurrence in 2019. A new study points to an episode of gravity darkening that may have contributed to the phenomenon.
Betelgeuse appears as a bright red shoulder of the Orion constellation and is, on most days, the 10th brightest star in the sky. The star unexpectedly dimmed by 60% in late 2019 and it continued to become less bright in the following months. The process stopped in February 2020 and the star began to brighten again to finally attain its normal level of intensity, reported Space.com.
The great dimming left astronomers baffled as it was the first such occurrence since they started observing the star almost 50 years back. Many theories were put forward by astronomers, including stellar outbursts or giant clouds of orbiting dust. A new study has found that a wandering visitor may have caused the star to dim due to gravity darkening.
The random visitor may have been a black hole, a neutron star or a white dwarf. The fly-by object may have changed the shape of Betelgeuse's outer atmosphere, resulting in a decline in brightness. The wandering object could have caused tides on the surface of the star similar to the way the Moon affects tides on Earth with its gravitational force.
The tidal bulge would extend the equator of the star from its core, dimming the overall appearance of Betelgeuse.
Researchers, in a paper published in the journal Monthly Notices of the Royal Astronomical Society, admitted the theory of the stellar fly-by, on its own, couldn't account for the full 60% dimming. However, the visitor may have caused a strong outburst resulting in the ejection of a large amount of material, which could have transiently blocked our view of Betelgeuse. The combined effect may explain the great dimming.
This is not the first time space scientists have come up with a theory regarding the great dimming.
Another theory suggested the enormous ejection of material from the star's surface could be the reason. A research team found that the blowout took a chunk of the star's lower atmosphere – the photosphere, leaving in its wake a cool spot that was further obscured by the dust cloud from the blowout.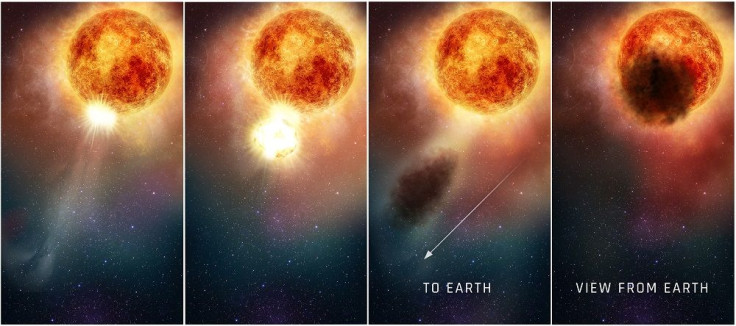 © Copyright IBTimes 2023. All rights reserved.