What Happened To Tamerlan Tsarnaev's Wife, Katherine Russell? Update After 2013 Boston Marathon Bombing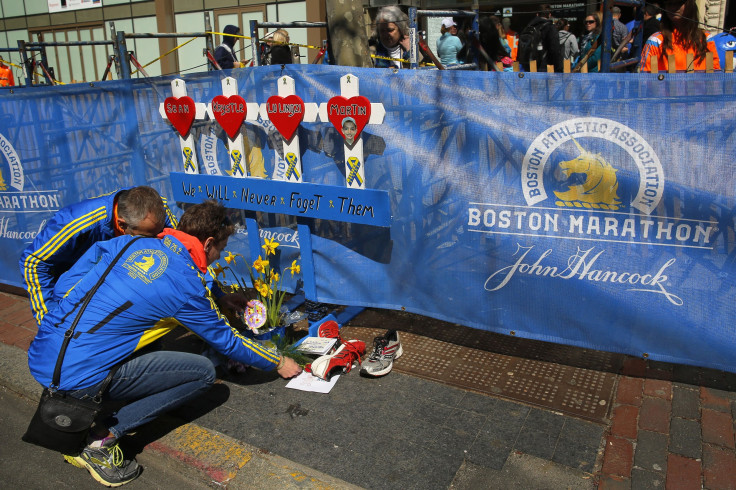 Katherine Russell, the widow of slain Boston Marathon bombing suspect Tamerlan Tsarnaev, has been away from the public eye and last surfaced in December 2016. Her lawyer slammed a movie "Patriots Day" for suggesting that Russell had foreknowledge of the bombing carried out by Tamerlan Tsarnaev and his younger brother, Dzhokhar Tsarnaev.
Russell was questioned after the Boston bombing, which killed three people and injured several hundred more. She has never been charged with any wrongdoing linked to the bombing. Tamerlan Tsarnaev, along with his brother, Dzhokhar, planted a pair of pressure cooker bombs at the marathon's finish line in Copley Square on April 15, 2013. Tamerlan Tsarnaev was killed in a shootout with police after a manhunt was launched for the suspects of the bombing. Dzhokhar Tsarnaev, who was taken into custody during the manhunt, is incarcerated at the supermax prison in Florence, Colorado, waiting for the death sentence handed down to him.
Read: What Happened To Dzhokhar Tsarnaev?
Following the bombing and the manhunt, the focus of the investigation moved to Tamerlan Tsarnaev's wife, who police believed might have been aware of her husband's plans. Russell now lives a free life as police could not find any evidence linking her to the bombing. Russell is the daughter of an emergency room doctor and grew up in a Christian household in North Kingstown, Rhode Island. In September 2016, People magazine reported that Russell was living in her childhood home with her daughter.
In September 2016, Russell released a statement through her lawyers as federal authorities wanted to question her about her husband's activities.
"The injuries and loss of life – to people who came to celebrate a race and a holiday – has caused profound distress and sorrow to Katie and her family. The reports of involvement by her husband and brother-in-law came as an absolute shock to them all," the statement read.
A source close to Russell's family told People magazine at the time: "She has spent a lot of time crying. As far as I know, Katie wasn't aware of what he was up to. She stopped seeing a lot of her friends and cut them off. She became very withdrawn and quiet. That took away a lot of what we knew of her."
Dzhokhar Tsarnaev was tried on 30 charges, including murder and using a weapon of mass destruction resulting in death, in federal court. He was convicted of all counts on April 8, 2015.
Last week, the FBI released notes on a 2011 interview with Tamerlan Tsarnaev during which he denied being part of any violence and instead expressed his interest of becoming a professional boxer.
"Tamerlan doesn't like to fight for the sake of violence," the report stated. "Tamerlan has fought to protect others. Tamerlan was in several fights as a child in school in Kyrgyzstan. Tamerlan stood up for kids that were being bullied by others." The report also said that he claimed to have never searched for "extremist Islamic material" online.
© Copyright IBTimes 2022. All rights reserved.
FOLLOW MORE IBT NEWS ON THE BELOW CHANNELS