What Is The Insurrection Act? Trump May Have Invoked Law During Capitol Riots
KEY POINTS
Trump could have invoked the Insurrection Act during Wednesday's Capitol riot
The bill would allow the president to deploy federal armed forces to quell public unrest
The Insurrection Act was signed into law in 1807 by Thomas Jefferson
President Donald Trump on Wednesday could have invoked the Insurrection Act to suppress the violent insurrection at the U.S. Capitol, according to the District of Columbia's City Council.
During a closed briefing last Monday, the D.C. Attorney General's office shared a memo with council members that analyzed the possibility that Trump would have the ability to invoke the Insurrection Act and use federal armed forces to quell unrest as thousands of pro-Trump supporters flocked to the city.
"We had every reason to suspect there would be some sort of trouble. Our concern was that it would be fomented by the president who would say: 'Look, there's rioting and chaos — we need to take over the police department and bring in the National Guard,'" Phil Mendelson, chair of the city council, said.
The memo and the concerns raised in it were based on the president threatening to invoke the Insurrection Act during the widespread public unrest at the height of the Black Lives Matter protests in the summer of 2020.
"If a city or state refuses to take the actions that are necessary to defend the life and property of their residents, then I will deploy the United States military and quickly solve the problem for them," Trump said on June 1, a week after demonstrators protested the killing of George Floyd.
Trump ultimately did not invoke the Insurrection Act on Wednesday. Acting Defense Secretary Chris Miller collaborated with Vice President Mike Pence and congressional leaders to activate the National Guard as thousands of rioters stormed the Capitol.
The Insurrection Act was signed on March 3, 1807, by Thomas Jefferson, the nation's third president, to foil a plot by Vice President Aaron Burr, who planned to raise an army and establish a dynasty in Louisiana or Mexico. The bill authorizes presidents to deploy active-duty military to quell public unrest and enforce civilian law in times of crisis.
Since its signing, several presidents have invoked the Insurrection Act, including the 34th president, Dwight D. Eisenhower. He famously invoked the Insurrection Act on Sept. 23, 1955, which sent 1,000 U.S. Army troops from the 101st Airborne Division to Little Rock, Arkansas, to maintain peace and order as the Central High School desegregated.
"Our enemies are gloating over this incident and using it everywhere to misrepresent our nation. Mob rule cannot be allowed to override the decisions of the courts," Eisenhower said in a televised address.
The last time the act was used was in 1992, when the acquittal of four white officers involved in the beating of Black motorist Rodney King led to widespread public unrest and riots across Los Angeles.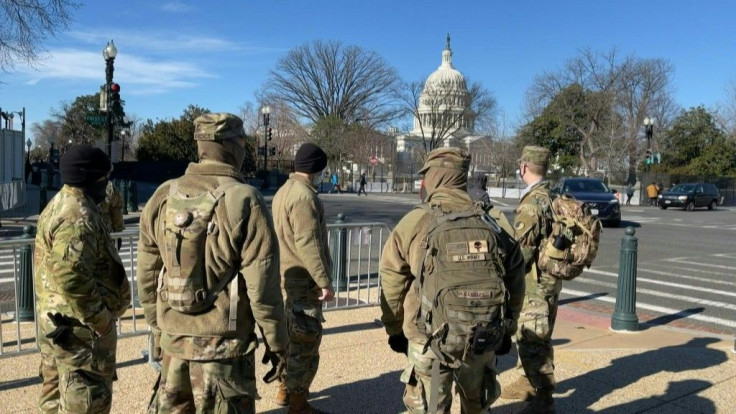 © Copyright IBTimes 2023. All rights reserved.
FOLLOW MORE IBT NEWS ON THE BELOW CHANNELS