Three GOP Senators Support Trump Impeachment Or Resignation: 'Go Away As Soon As Possible'
KEY POINTS
Senator Toomey believe Trump's role in Wednesday's insurrection is an "impeachable offense"
Maryland Governor Hogan says Trump played a huge role in the violent riot
Alaska Senator Murkowski questioned her future in the Republican Party
A growing number of GOP senators are urging President Donald Trump to resign or be impeached following the violent insurrection at the U.S. Capitol on Wednesday.
Republicans have remained mostly silent about Trump's role in Wednesday's mob attack on the U.S. Capitol. However, three GOP senators have spoken out in support of the president's removal from office, including Sen. Pat Toomey, who on Sunday supported calls for Trump's resignation in the wake of the Capitol siege.
"I think at this point with just a few days left [in Trump's term], it's the best path forward, the best way to get this person in the rearview mirror for us," Toomey said during CNN's State of the Union. "That could happen immediately. I'm not optimistic it will, but I do think that would be the best way forward."
Toomey said he believes President Trump has committed "impeachable offenses" and could possibly face criminal liability after inciting thousands of his supporters to march toward the Capitol, which led to a violent insurrection in which five people were killed including a police officer.
"I think there is also a possibility that there is criminal liability here. I'm not a lawyer. I'm not a prosecutor," Toomey said. "So ... you know, the standard for a conviction in a criminal prosecution is quite high."
Republican Gov. Larry Hogan of Maryland has also urged Trump to resign. He slammed GOP members who continue to show support for the president.
"You know, they stormed the Capitol, and threatened to kill the vice president and put the lives of people in danger. And he had a huge part, a huge role to play in that," Hogan said.
Hogan's and Toomey's statements came after Alaska Sen. Lisa Murkowski on Friday became the first GOP member to say Trump should immediately resign during an interview with the Anchorage Daily News.
Murkowski also said she might not see a future in the Republican party if it continues to support President Trump.
"I want him to resign. I want him out. He has caused enough damage," she said. "If the Republican Party has become nothing more than the party of Trump, I sincerely question whether this is the party for me."
House Democrats, led by Speaker Nancy Pelosi, are expected to attempt to pass a resolution on Monday morning to call for Vice President Mike Pence and the Cabinet to invoke the 25th Amendment and remove Trump from the Oval Office.
If Pence fails to respond to the call within 24 hours, the House will move to bring the articles of impeachment to the floor for a full vote on Tuesday.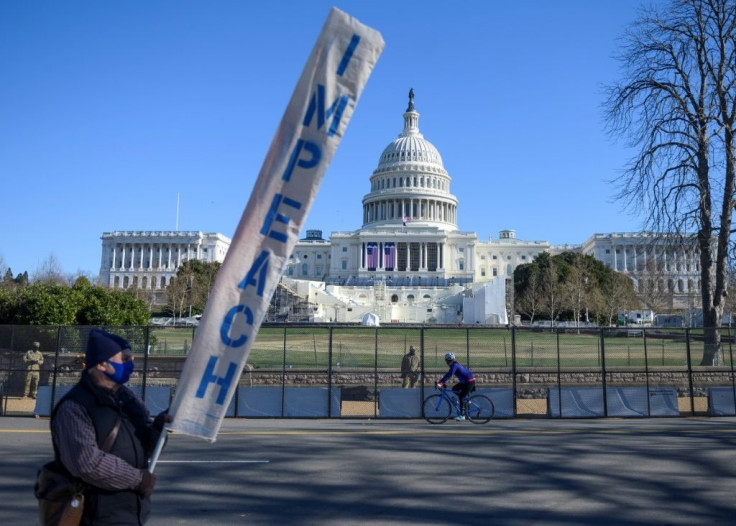 © Copyright IBTimes 2023. All rights reserved.