What Is Shariah Law? Islam Shouldn't Be Protected Under First Amendment, Rick Santorum Says During Republican Debate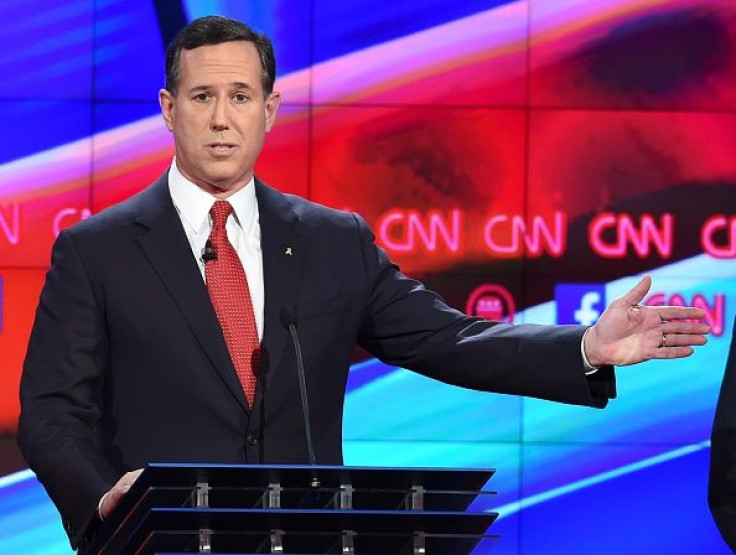 Former U.S. Sen. Rick Santorum of Pennsylvania said during Tuesday night's "undercard" Republican debate that Islam should not be protected under the First Amendment. Islam, he said, is "not just a religion," but "also a form of government."
"Islam is a religion but it is also Shariah law," Santorum said. "That political structure is a big problem." He added, there "has to be a line drawn."
In the first Republican debate since the recent terror attacks in Paris and San Bernardino, California, the undercard event focused on national security and terrorism. In recent weeks, all the Republican candidates have talked about ways to prevent terror attacks and ensure that terrorists are not entering the United States. In many instances, these proposals have come in the form of anti-Muslim rhetoric -- most notably Donald Trump's proposal for a temporary ban on all Muslims entering the U.S.
But in the early debate Tuesday night, Santorum and his fellow candidates emphasized that they were not speaking against Muslims, but rather trying to protect Americans. In his comments about Islam, Santorum said he expected many Americans did not know much about the religion.
So what exactly is Shariah law? Shariah law is Islam's legal system, and it is an Arabic word that means "the clear, well-trodden path to water." It primarily comes from the Quran -- Islam's main text -- and the Sunna, the sayings and teachings of the Prophet Muhammad. Muslim scholars use precedent and analogies to determine how it applies to new issues.
Shariah is a broad set of laws that cover personal morals and religious practices, including everything from prayers to fasting to donating to the poor. The goal of Shariah is to help Muslims understand how God wants them to lead their lives, according to the BBC.
Islam (General) | FindTheData
While it is a legal system as Santorum said, Shariah is more complex than that. It has three components: belief, character and actions. Only a small portion of the "action" section deals with law, and 80 of the 6,236 verses in the Quran are about specific legal mandates, the Huffington Post reported.
The belief aspect of Shariah tells Muslims to believe in God, the prophets, angels, revelation and other aspects of the faith. The character section focuses on promoting qualities such as humility and kindness and forbids Muslims from lying or expressing traits such as pride. The last portion on actions includes religious practices such as prayer, fasting, pilgrimage and human actions such as crime, marriage and business.
There are multiple categories of offenses in Shariah law, according to the Council on Foreign Relations. Offenses that are given a specific punishment in the Quran (known as hadd punishments), those that are decided by a judge and those that Shariah says should be resolved by a punishment related to the crime. Hadd punishments follow crimes that include adultery, false accusation of unlawful sexual intercourse, wine drinking, theft and highway robbery. These are the punishments that typically get media attention, but in reality, they rarely happen.
"In reality, most Muslim countries do not use traditional classical Islamic punishments," said Ali Mazrui of the Institute of Global Cultural Studies in a Voice of America interview.
Rick Santorum Presidential Candidate Profile | InsideGov
Shariah is the law of the land in some countries such as Egypt, Mauritania, Sudan, Afghanistan, Iran, Iraq, Pakistan, Qatar, Saudi Arabia, Nigeria and the United Arab Emirates. But some other countries use a mix of Shariah and secular courts, and not all Muslim-majority countries use Shariah law.
The United States do not have Islamic courts, but judges may need to consider Islamic law in decisions about granting a divorce for a couple in an Islamic marriage, for example. Lawmakers in several U.S. states have passed legislation prohibiting judges from considering "foreign laws" in their decisions, and these bills were generally considered to target Shariah law.
Muslims in the U.S. follow secular laws and often say that harsh punishments in Shariah have been exaggerated, done away with or are superseded by American law. Despite Santorum's comments, the existence of Shariah does not make Islam unconstitutional, and the religion has been protected by the First Amendment when the government investigates hate crimes against Muslims around the U.S.
© Copyright IBTimes 2023. All rights reserved.