What Will Melania Trump Wear To The Inauguration? Ralph Lauren Could Design FLOTUS Outfit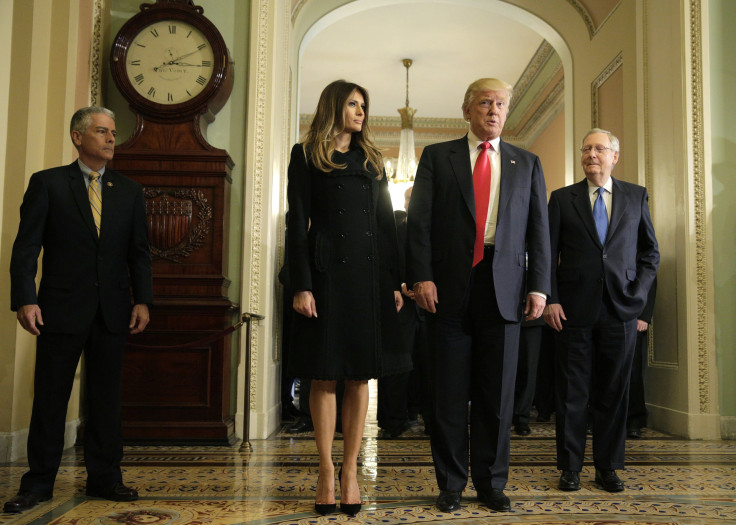 With just days leading up to the presidential inauguration, many are still wondering what the future FLOTUS will be wearing during a host of high-profile events. The former model and wife of President-elect Donald Trump will be attending the Jan. 20 swearing-in ceremony as well as a few of the Friday evening inaugural balls. Yet what sartorial political statement will she make?
As rumors continue to swirl around Melania Trump's inaugural ensembles and celebratory gowns, one American designer could be preparing a gown, and even perhaps a wardrobe, for the future first lady. Famed American designer Ralph Lauren could be swathing Mrs. Trump in his classic designs this week, WWD reported Tuesday. Lauren himself, a Hillary Clinton supporter, reportedly agreed to the "bipartisan" opportunity of dressing Trump's wife.
Mrs. Trump has already worn a number of Ralph Lauren pieces on the campaign trail. The designer had not made an official announcement, however.
Melania Trump's inaugural garb has been hotly debated among fashion outlets and critics, largely because many designers have famously refused to dress the prospective first lady. Following the election results in November, WWD published a list of designers who vehemently pledged not to dress Melania, and ones who would still welcome the opportunity to dress the first lady. With millions of viewers and an estimated 900,000 people attending the swearing-in ceremony and parade, the viewership of the event alone would be a momentous opportunity for any designer.
"Out of respect for the position of the first lady of our United States, I would be honored to be considered to design for any first lady of the United States," designer Thom Browne told WWD.
Some, however, have disagreed. Marc Jacobs, a Clinton supporter, most famously refused to dress the next first lady.
"I have no interest whatsoever in dressing Melania Trump," Jacobs told WWD.
In recent months, Melania Trump has been known to wear brands like Gucci and Roland Mouret.
© Copyright IBTimes 2023. All rights reserved.