When Does Chloe Lukasiak Come Back In 'Dance Moms'? Episode 17 Spoilers
Abby Lee Miller is out and there will be a new teacher in at the ALDC come Tuesday's installment of "Dance Moms." After Abby left her students in favor or a work vacation before her prison sentencing, the moms will bring in choreographer Laurieann Gibson to replace her. But she won't be the only famous face showing up in Season 7, episode 17.
After weeks of the network teasing her return, Chloe Lukasiak will make her official comeback to the series in part 1 of "Out With Abby, In With Chloe." Lifetime's synopsis for the anticipated installment reveals Chloe will return to the competition world after two years away, but her comeback won't exactly be warm and fuzzy as she will compete directly against her former teammates.
READ: "Dance Moms" Stars: Where Are They Now?
An extended promo video released after episode 16 confirms Chloe's decision to team up with The Murrieta Dance Project and teases the drama that will follow. "Chloe is now competing with our biggest rival," mom Holly Frazier says in the clip.
When the two teams show up to the weekly competition, the heat only intensifies. In one scene, Jill Vertes slams Chloe's mom Christi Lukasiak and accuses her of making her daughter Kendall Vertes cry. "Do you feel good?" Jill asks the fellow mom.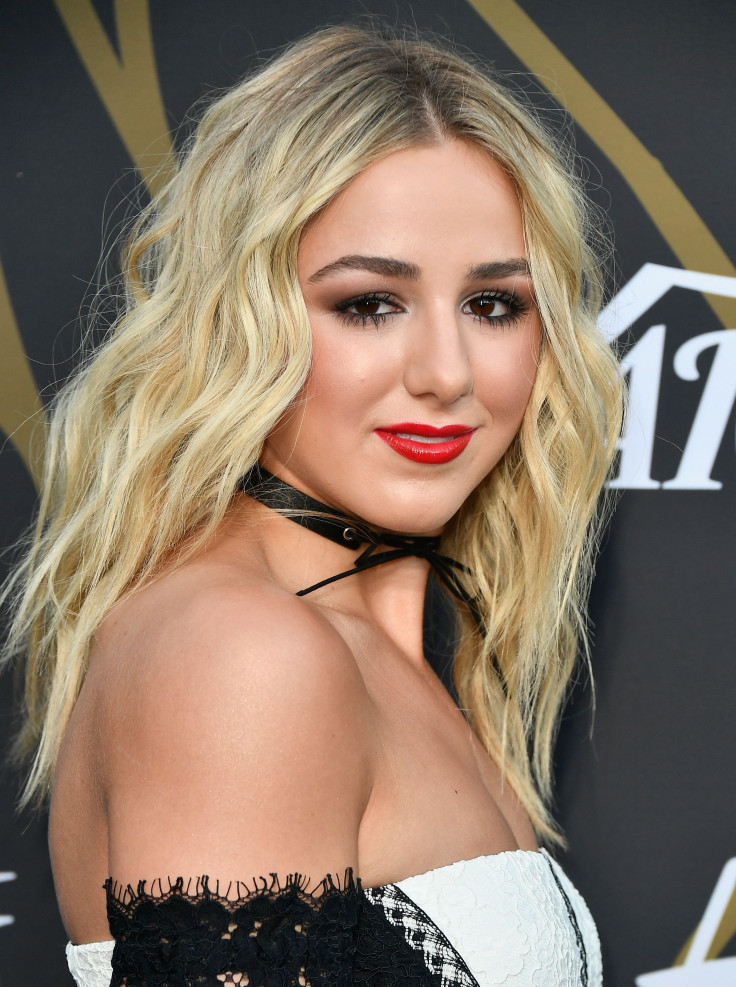 Elsewhere in the episode, the ALDC team will have to adapt to a new coach. "Laurieann's intensity and passion shakes things up at the ALDC," states the synopsis. "But will her unique methods and choreography be enough to win?"
The promo reveals Lauriann will rattle some feathers like her predecessor. "Lazy doesn't get you number one," she says in one scene. While the teaser makes it appear the choreographer's comments will make dancer Nia Sioux upset, a sneak peek of the installment confirms her teaching tactics are not to blame for Nia's tears.
One preview shows Laurieann ask Nia about her past with Abby, to which Nia cries after sharing they had a tough relationship following the launch of her music career. A second sneak peek reveals Laurieann will call dancer Kendall Vertes "lazy" in the episode, to which she makes the teen yell repeatedly in studio that she is actually a "hard worker."
While Kendall is brought to tears by her new coach's statement, Kendall's mother doesn't appear concerned in the episode. "There is a big different between mean and tough," Jill explains to the cameras.
[Spoiler Warning!]
It doesn 't appear viewers will get to see the results of the competition between the MDP and the ALDC in episode 17, seeing as the episode is split into two parts, but results for Fierce NDC Competition in Panorama City, California, on Feb. 25 have already been released.
The results show Laurieann's choreograph may not be the best fit for the ALDC girls. Their group number "Judgment Day" is said to have placed fourth in the jazz-funk category. MDP, however, scored a big win. Their contemporary group routine "Devil's Playground," which includes a scene with Chloe using handcuffs, placed first. Check out a sneak peek of the routine below.
Elsewhere at the competition, Camryn Bridges' solo did not place, but is said to have received a platinum score. Nia's solo had the same fate. Maesi Caes' hip hop routine also reportedly did not place in the overalls.
Prior to the premiere of episode 17 at 9 p.m. EDT on Tuesday, Aug. 15, Lifetime will air an episode of Chloe's web series. In the installment of "Chloe Does It," she'll have a sleepover with Kendall. At 11 p.m. EDT, the network will follow up with a sneak peek of "Out With Abby, In With Chloe" part 2, which premieres Aug. 22.
© Copyright IBTimes 2023. All rights reserved.