When Will 'Teen Wolf' Season 6B Start? Final Premiere Date Revealed
After months of waiting, "Teen Wolf" Season 6B finally has a premiere date. MTV announced that fans can expect the werewolf drama to start later this month.
"Teen Wolf" Season 6B will start Sunday, July 30 at 8 p.m. EDT, according to Variety. That marks both a new night and timeslot for Scott (Tyler Posey) and the pack. The show previously occupied Tuesdays at 9 p.m. Fans will have to now clear their schedules on Sundays at 8.
Fans have been waiting for this announcement since the midseason finale aired in January. At the end of the season, the pack defeated the Ghost Riders, who had been taking people and erasing them from memory. Stiles (Dylan O'Brien) was safe and sound, and the pack finished up senior year together.
READ: Will "Teen Wolf" Kill Off Stiles?
The midseason finale ended with everyone finishing high school, and Stiles made it clear that he was leaving early. He left the Jeep with Scott, who is heading to UC Davis in the fall. Lydia (Holland Roden) is dropping Stiles off at George Washington University, where he will attend a pre-FBI program, before she heads off to MIT.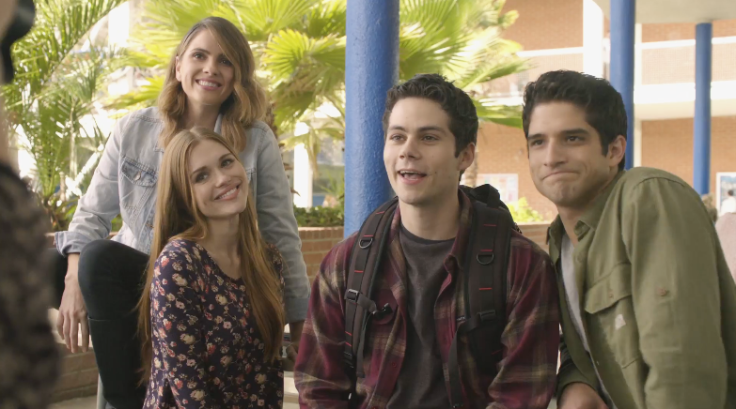 However, the pack has one more threat in Beacon Hills they have to handle. It seems hunters are coming into the town, and they are not friendly with supernatural creatures. They're afraid of Scott's pack, and they're a group that confronts fear with violence.
"They're feared and hunted. It's very much a season of fear," Davis told TVLine earlier this year. "Our inspiration was H.P. Lovecraft, so you're going to be seeing a lot of dark horror in the next season. We have some really disgusting stuff coming up."
READ: Braeden Will Not Return To "Teen Wolf"
The real question is who is doing the hunting? Argent (J.R. Bourne) was initially introduced as a hunter, but he eventually became an ally to the pack. He even started a romance with Scott's mother Melissa (Melissa Ponzio) last year. Will he turn his back on all of that to follow his family's path?
"Teen Wolf" audiences will likely get some spoilers before the final episodes debut. The cast is heading to San Diego Comic Con later this month. They won't be able to use the "I don't know" excuse to avoid questions, though. The show wrapped filming in March.
The series finale of "Teen Wolf" will also serve as the 100th episode. Several cast members wrote emotional messages on social media after filming on the milestone episode ended. Roden, one of the original cast members, posted a message on Instagram to say goodbye.
"No chapter of my life will quite touch me like #Jeffdavis and the world he created at @teenwolf — the attitude of these shows — the tone that is on set — starts at the top — It has been such a privilege to work for such kind and hard working bosses. I will only continue to peel back the layers of my gratitude of @teenwolf which are to be discovered for years to come," she wrote.
"Teen Wolf" Season 6B premieres Sunday, July 30 at 8 p.m. EDT on MTV.
© Copyright IBTimes 2023. All rights reserved.