Where Is Carly Fiorina? Former Hewlett-Packard CEO Down In Polls, Needs More Than Debate To Boost Candidacy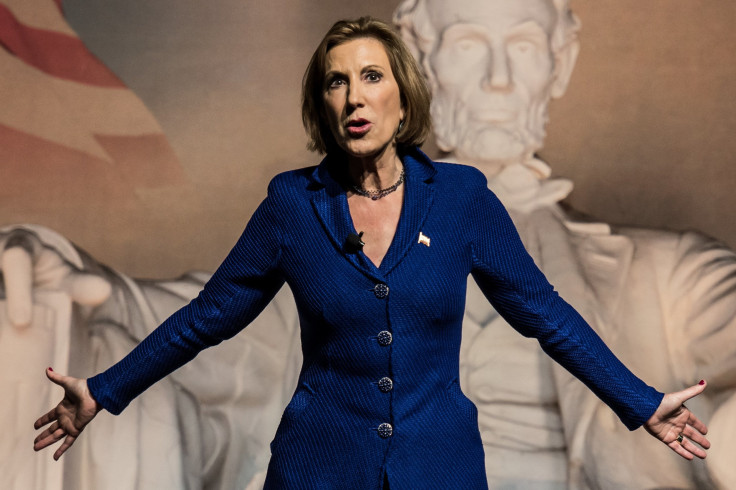 This week's Republican presidential debate will be crucial for many of the candidates, but perhaps none as much as Carly Fiorina. After strong performances in the first two GOP debates, Fiorina's poll numbers have plummeted and the former Hewlett-Packard CEO has virtually disappeared from the public eye.
Fiorina says her campaign is going strong and that she has been focusing on voter outreach in recent weeks. While other candidates have spent time giving high-profile interviews and making headlines, Fiorina seems to have slipped from most voters' minds. Wednesday's debate could give her another chance to get some positive attention, but she will need to prove she can translate praise for her debating skills into lasting support if she's going to be a serious candidate.
"Wednesday is an important night for her. The debate stage is a place where she clearly shined," said Jessica Proud, a Republican strategist. Proud is unaffiliated with the campaign but has previously done work for a super PAC supporting Fiorina. "She really stood out on foreign policy in the last debate so if she can present a clear plan that voters respond to on the fiscal side that will be a win for her," he said.
Carly Fiorina Presidential Candidate Profile | InsideGov
The debate Wednesday night will be hosted by CNBC and will focus on economic issues such as jobs, taxes and the federal deficit, which should allow Fiorina to show her business chops. However, she has struggled to get past criticism of her leadership at HP, where she oversaw the firm's merger with Compaq and then ordered the layoffs of about 30,000 employees before being being fired herself when the company's stock dropped. The topic of her business experience is sure to come up during the debate, and her answer will likely affect whether she can count Wednesday as a third win for her campaign.
Another challenge for Fiorina is navigating the ground between her status as an outsider and her appeal to more establishment voters. After she stood up to Trump in the Sept. 16 debate, she rocketed into second place in the polls, showing a broader appeal, but has since fallen back to sixth, hovering around an average of 5 or 6 percent.
"Out of the three outsiders in the race, she is someone who can demonstrate she has experience and that she has real policy plans," Proud said.
But Fiorina's style has so far not led her to make the kinds of waves that Trump and his fellow outsider front-runner Ben Carson typically do. Both men are known for their controversial comments, which seem to energize their bases even as they draw ire from the opposition.
Unlike some of her opponents, Fiorina has not made use of campaign ads yet, according to the New York Times. She told the Times last week that she does not think it's time for ads yet, and that she is focused on taking advantage of "earned media" or attention from the press, as well as getting to know voters.
"We are looking forward to the opportunity for Carly to introduce herself to more voters at Wednesday's debate, and we'll continue to travel the country to meet with voters and answer their questions," Fiorina spokeswoman Anna Epstein told International Business Times.
Still, Fiorina has been lacking in both the polls and in media mentions. A graph from the 2016 Campaign Television Tracker shows that Fiorina's mentions on TV news networks have dropped in a similar pattern to her polls. Despite her campaigning and town hall-style events in recent weeks, it seems Fiorina may need Wednesday's debate to give her another bump.
"If I were on her campaign, I'd be talking about how we can get voters to trust her. … If she doesn't turn in a solid debate performance again, how is she going to capture attention?" Republican strategist Ford O'Connell said. "Right now it's sort of like that old Wendy's commercial: Where's the beef?"
© Copyright IBTimes 2023. All rights reserved.
FOLLOW MORE IBT NEWS ON THE BELOW CHANNELS