Where Is Qin Gang? China's Foreign Minister Missing For More Than 3 Weeks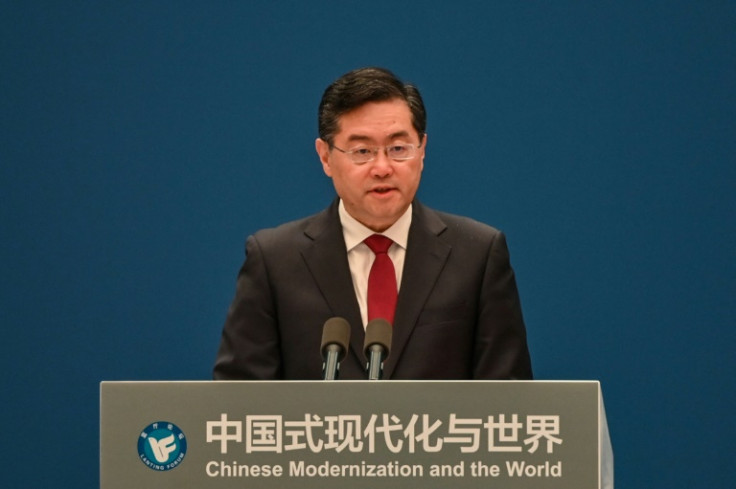 KEY POINTS
Qin skipped an ASEAN foreign ministers' summit last week
A journalist said it appears Qin's name is also being removed from China's news cycle
Officials under the Xi regime "do not have good opportunities for corruption": Columbia University's Andrew Nathan
Chinese Foreign Minister Qin Gang has not been seen in public since June 25, and speculations are rife about why he could have disappeared from public view.
Such sudden public disappearances are not unheard of in China, a recent high-profile one being the case of the tech billionaire and Alibaba co-founder Jack Ma. But an expert said health-related issues, the reason given by Beijing for Qin's disappearance, is still the most believable. Simply because Qin knew too well he "had to behave."
Speculations about Qin's whereabouts intensified in recent days after he was replaced by Wang Yi, director of the office of the Central Commission for Foreign Affairs, at the Asean-China Foreign Ministers' Meeting last week. A Chinese foreign ministry spokesperson confirmed Wang's attendance at the foreign minister's summit.
"State Councilor and Foreign Minister Qin Gang is unable to attend this series of foreign ministers' meetings due to health reasons," Wang said at a press briefing but did not provide further details, the Associated Press reported.
Qin also missed two high-profile visits from Washington officials: U.S. Treasury secretary Janet Yellen and U.S. special presidential envoy for climate John Kerry.
It appears Qin's name is also being removed "from the news cycle in China," as per journalist Philip Cunningham. He said five sentences about Qin on his SCMP opinion article on July 15 were removed after it was already accepted for publication.
SCMP is owned by Alibaba Group. Its founder Jack Ma also disappeared from public view in October 2020 after he delivered a speech that appeared to criticize China's financial regulation system.
"For me the health argument remains the most credible, because officials in the foreign affairs system do not have good opportunities for corruption," Andrew J. Nathan, professor of political science at the Columbia University and specializing in Chinese politics, told International Business Times in emailed statements.
Nathan, who co-authored "China's Search for Security" with Andrew Scobell, explained that Qin was only promoted to foreign minister recently, and officials for promotion are "scrutinized carefully." Speculations about a potential disciplinary infraction are limited, he said. Qin was the former ambassador to the U.S. before his promotion.
"I would expect people like him [Qin] who are close to Xi [Jinping] to have known they had to behave as good communists, as the saying goes, in their private lives," Nathan said.
While Qin's exact whereabouts and his health condition are unclear, Nathan said what's known is "it's characteristic" for Beijing to shroud the lives of its high officials in secrecy, adding that the secrecy only spurs speculation.
"It's not good for the system. But it is the deeply embedded practice of a vanguard party, with origins in a revolution, that always feels itself to be under attack," he said.
Taiwanese media reported last weekend that Qin has not been seen in public due to an extramarital affair, as per Japanese news agency Kyodo News.
The speculations swirling around Qin's public absence may be fueled by the lack of transparency in the Chinese political system, CNN reported. Qin isn't the first Chinese top official to have disappeared from public view.
Meng Hongwei, ex-president of the Interpol and a former vice minister of public security, disappeared in 2018 while on a return visit from Europe. He was later accused of bribery and sentenced to more than 13 years behind bars.
Hu Xijin, former editor-in-chief of the state-run Global Times newspaper, wrote on Weibo over the weekend that disclosing information "would help improve official credibility and convey confidence to the private sector," Time reported. Without mentioning Qin, Hu said "there's something everyone is talking about but can't be talked about publicly." But he also called for a "balance" between keeping operations up and "respecting the public's right to information."
© Copyright IBTimes 2023. All rights reserved.