Which Marvel TV Shows Connect To The Movies? Big Changes Ahead
It's getting hard to keep track of all the superhero TV shows, even just the Marvel ones. There are ten current and/or upcoming live action Marvel TV series right now, and while all are set in the Marvel Cinematic Universe, not all Marvel shows are made equal. Some connect to the movies more than others.
"Marvel's Agents of S.H.I.E.L.D.," which will air its seventh and final season next year on ABC, mildly connects to the Marvel Cinematic Universe movies. Early seasons especially were heavily influenced by movies like "Captain America: The Winter Soldier" and peppered with cameos from Fury (Samuel L. Jackson) and Maria Hill (Cobie Smulders). However, the series has gravitated away from the movies, not even acknowledging the events of "Avengers: Infinity War."
"Marvel's Cloak and Dagger," which recently wrapped its second season on Freeform, has the villainous Roxxon involved, connecting them to the "Iron Man" movies as well as other TV shows. They also name drop Tony Stark, but the movie connections end there. It's actually more well-connected to the now-cancelled Netflix shows, like "Daredevil" and "Luke Cage," more than anything on the big screen.
"Marvel's Runaways," currently filming Season 3 for Hulu, has referenced the greater MCU. Wakanda has been mentioned as well as WHIH Newsfront, but there hasn't been anything too significant. It will, however, crossover with "Cloak and Dagger" later this year.
Hulu is also working on "Marvel's Ghost Rider," starring Gabriel Luna as Robbie Reyes, and "Marvel's Helstrom," but those are expected to be as loosely connected as the other shows produced by Marvel Television. None of the above shows ever affect the movies. However, things will be different for Marvel TV shows at Disney+.
The new streaming platform, launching in November, revealed that there will be several new Marvel TV shows coming out in the next few years. Marvel Studios will produce rather than Marvel Television, and Marvel Studios co-president Kevin Feige promised that the new shows will directly impact the movies.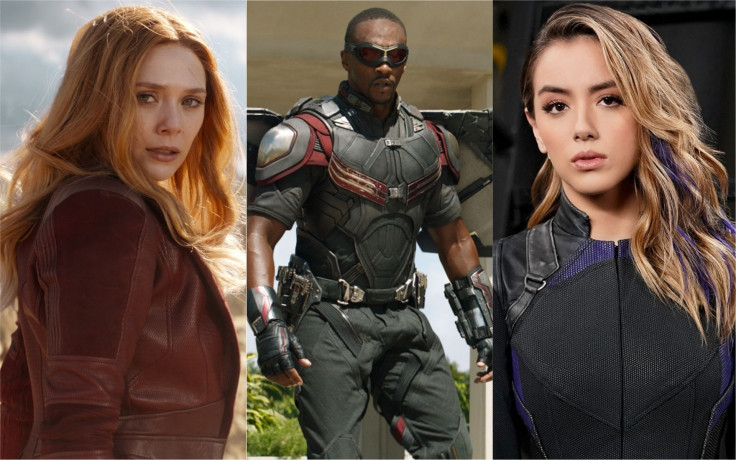 "Whatever happens in those, in those shows and with characters that have been in the films, they'll undergo transformations, not Loki necessarily, but will undergo transformations in their series," Feige told /Film earlier this year. "And those transformations will be reflected in their next film appearances because we've been developing long-form narrative stories for Disney+ at the exact same time that we've been developing a post-['Avengers: Endgame'] MCU, we've been able to do something we've never done before, which is interweave them from the start, from the plant."
The Disney+ shows directly connect to the films so much that they're considered official titles in the Phase 4 lineup.
"Falcon and the Winter Soldier" will follow Anthony Mackie's Sam Wilson and Sebastian Stan's Bucky Barnes in a post-Steve Rogers world, and it'll include "Captain America: Civil War" villain Baron Zemo (Daniel Brühl). Expect it to debut on Disney+ in fall 2020.
"Wandavision" will give a new look at Scarlet Witch/Wanda Maximoff (Elizabeth Olsen) and bring back the deceased Vision (Paul Bettany). It'll also include adult Monica Rambeau (Teyonah Parris), who was introduced as a little girl in this year's "Captain Marvel." It seems like the series, due out in spring 2021, could directly lead into "Doctor Strange in the Multiverse of Madness," due out May 7, 2021, which will also include Scarlet Witch.
"Loki" will follow the god of mischief (Tom Hiddleston) in his alternate timeline after escaping the Battle of New York in "Avengers: Endgame." This series is also due out in spring 2021, and with Doctor Strange (Benedict Cumberbatch) exploring the multiverse, it seems like there is at least the possibility that this could connect.
"Hawkeye" will show Clint Barton (Jeremy Renner) training a new archer, Kate Bishop, who could potentially be part of a new Avengers team down the line. The show will premiere in fall 2021.
"What If…?" is the only Disney+ show that doesn't seem like it'll be very connected to the Marvel movies. The animated series includes dozens of actors from the MCU, but they'll be voicing alternate versions of things that could have happened. The series, set for summer 2021, will include versions of Peggy Carter getting the super soldier serum and Steve Rogers fighting in an armored Stark suit.
For now, it looks like the Disney+ TV shows are the ones that will be super connected to the movies. The ones on other Disney-owned entities (Freeform, ABC and Hulu) will continue to have a much looser connection.
© Copyright IBTimes 2023. All rights reserved.