Who Is Alveda King? MLK Niece Joins Trump At African American Museum; Is Critic Of Elizabeth Warren And Coretta Scott King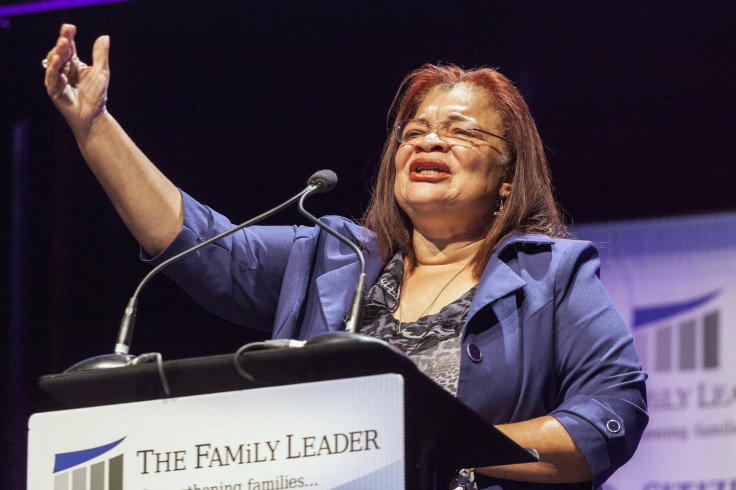 Tuesday morning, President Donald Trump took a trip to the National Museum of African American History and Culture as a part of his effort to celebrate Black History Month, and he had a special guest with him: Alveda King, the niece of celebrated Civil Rights leader Martin Luther King, Jr.
"She is a tremendous fighter for justice, so Alveda thank you very much," Trump said, who's been accused of racism in the past for questioning President Barack Obama's birthplace and calling a judge of Mexican descent "biased."
Indeed, not everyone was happy that Alveda King stood beside Trump as he spoke.
King, a conservative activist, founded Alveda King Ministries, a Christian organization that advocates for anti-abortion policies. She became well-known in conservative politics in the 1990s and has since become a contributor to conservative news site Fox News. But she wasn't always on the right — in the early 1980s, she served as a Democrat representing Georgia in the House of Representatives.
"I've been a Democrat, and I've been a Republican," she wrote in a blog post a few years ago. "I've even considered being an independent. Today, I'm just a Christian."
King was a supporter of Trump, before and after the election. She also recently chastised Sen. Elizabeth Warren (D-Mass.), for reading the letter of the late Coretta Scott King — Alveda King's aunt and Martin Luther King Jr.'s wife — to criticize now-Attorney General Jeff Sessions on accusation of racism and oppose his confirmation. Warren "played the race card," Alveda King claimed.
But Alveda King and Coretta Scott King didn't exactly have a cordial relationship when the latter was alive. The two sparred over their beliefs on homosexuality; while Coretta Scott King was an advocate for LGBT rights, Alveda King compared gay rights to genocide.
"It is statistically proven that the strongest institution that guarantees procreation and continuity of the generations is marriage between one man and one woman, " Alveda King said in a 2010 speech. "I don't know about you, but I'm not ready to be extinct and none of us wants to be. So we don't want genocide, we don't want to destroy the sacred institution of marriage."
In addition, in 1994, she published a letter that condemned her aunt. Coretta Scott King's support of gay rights would, "curses on your house and your people," Alveda King wrote, "… cursing, vexation, rebuke in all that you put your hand to, sickness will come to you and your house, your bloodline will be cut off."
© Copyright IBTimes 2023. All rights reserved.