Who Are The Egyptian Copts? Christian Minority Targeted By ISIS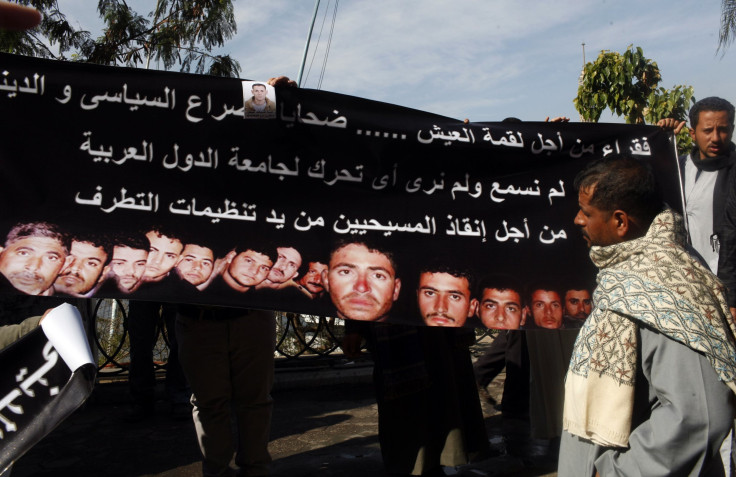 UPDATE 10 p.m. EST: U.S. President Obama issued a statement condemning the killing of 21 Egyptian Copts by ISIS as "despicable and cowardly."
"This wanton killing of innocents is just the most recent of the many vicious acts perpetrated by [ISIS]-affiliated terrorists against the people of the region, including the murders of dozens of Egyptian soldiers in the Sinai, which only further galvanizes the international community to unite against [ISIS]," Obama's statement said. "This heinous act once again underscores the urgent need for a political resolution to the conflict in Libya, the continuation of which only benefits terrorist groups, including [ISIS]."
UPDATE 6:15 p.m. EST: Egyptian President Abdel Fattah el-Sisi Sunday vowed to avenge the beheadings of 21 Egyptian Copts in neighborning Libya by the Islamic State group. Calling the killings criminal, Sisi said in a national address Cairo would choose the "necessary means and timing" for revenge, Reuters reported.
Original post:
A video purportedly showing 21 Egyptian Coptic Christians beheaded by members of the Islamic State group was released Sunday. The Coptic Christians in the video were reportedly guest workers who were kidnapped in Sirte, on Libya's coast, in two operations in December and January.
Since the beheading video was released, Egypt announced a seven-day mourning period, Al Arabiya reported. Egyptian President Abdel Fattah el-Sisi reportedly convened an emergency session of the National Defense Council to respond to the deadly attack.
This isn't the first time Egyptian Coptic Christians have been persecuted for their beliefs. The Coptic Orthodox Church in Egypt is the country's largest Christian denomination with 6 million to 11 million members. About 1 million members live outside Egypt. Former U.N. Secretary-General Boutros Boutros Ghali, who headed the U.N. during the genocide in Rwanda in 1994, is among the most prominent Coptic Christians. Ghali wanted to send troops to intervene in that conflict, but was met with resistance.
Copts believe the church was founded around A.D. 50 when the Apostle Mark, whom they credit as the first pope of Alexandria, visited Egypt. In A.D. 451, Copts split from the Catholic church over the divine nature of Jesus Christ. Services are conducted in the Coptic language, and its liturgy and hymns are reminiscent of the early church.
Since its split from the Catholic church, Egyptian Copts have faced persecution. In the wake of the Egyptian 2013 coup that removed President Mohammed Morsi from power, a congressional hearing revealed at least 11 Copts were killed and 200 churches, religious structures and homes were vandalized.
"For weeks, everyone could see these attacks coming, with Muslim Brotherhood members accusing Coptic Christians of a role in Mohammed Morsi's ouster, but the authorities did little or nothing to prevent them," Joe Stork, acting Middle East director at Human Rights Watch, said at the time.
According to Open Doors, a nonprofit that monitors attacks against Christians worldwide, Egypt is ranked No. 23 out of 50 on its 2015 Watch List. The organization points to growing Islamic radicalism that has led Christian converts as well as historically Christian communities to be targeted by terror groups.
More recently, Coptic Christians increased security measures ahead of Christmas and New Year's Eve celebrations.
"We ask God to keep the wars, which we witnessed recently, away from us while keeping the whole Arab world safe," an unnamed churchgoer told EuroNews. "We are all united. We need to stand together. The last few years have been very hard for all Arab countries"
Libya, the purported location on the ISIS video, is another major location where Coptic Christians have been targeted. Incidents increased before and during the ouster of dictator Moammar Gadhafi in 2011 when militias that fought together then turned their arms on each another. In December, a 13-year-old Copt girl was abducted and killed. In February 2014, seven Egyptian Coptic Christians were executed in Benghazi. In 2013, dozens of Coptic Christians said they were tortured inside a detention center in eastern Libya.
"They first checked our wrists searching for the crosses and if they found them, we [had to] get into their cars," Amgad Zaki, 26, told the Associated Press. "They shaved our heads. They threatened to sever our heads in implementation of Islamic Sharia [law] while showing us swords."
FOR FREE to continue reading
✔️ Unlock the full content of International Business Times UK for free
offer available for a limited time only
✔️ Easily manage your Newsletters subscriptions and save your favourite articles
✔️ No payment method required
Already have an account?
Log in
© Copyright IBTimes 2023. All rights reserved.