Who Is Earledreka White? Black Woman Calls 911 During Traffic Stop Asking For Backup [Video]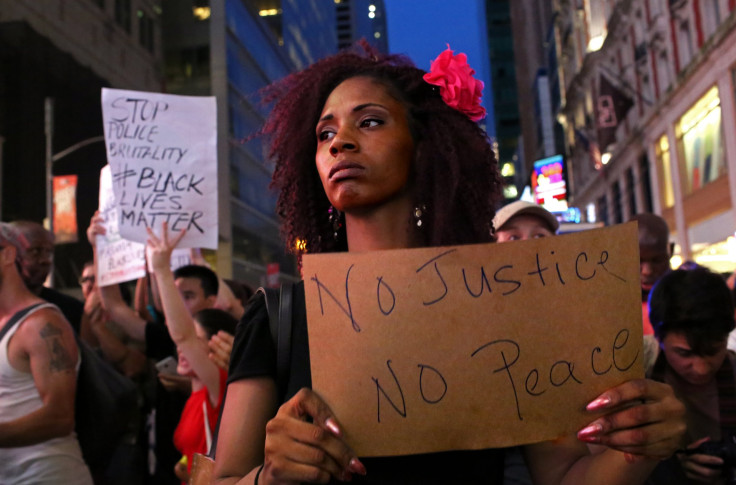 A video showing a black woman, Earledreka White, calling 911 dispatchers in Texas to plead for another officer to come to her own traffic stop before being roughly handled by the officer at the scene has been released, drawing comparisons to the treatment of Sandra Bland at a similar traffic stop last year. Bland, who was arrested, was later found dead in her jail cell.
White, a 28-year-old social worker, called 911 during a March traffic stop citing fear for her life. In the video, released this week by White's lawyer, she can be heard pleading for backup.
"I would like another officer to come out here," she said. "My heart is racing. I'm really afraid."
The officer can be heard talking in the video, obtained by the Houston Chronicle, but the words are indistinguishable. White told the Chronicle Wednesday that the officer had threatened to "tase" her before backing away and then coming back and "trying to break my arm."
White's video, alongside surveillance footage from a nearby business, shows that the rough handling of White was unprovoked, her attorney said. White was arrested on charges of resisting arrest and now says she feels lucky to be alive.
That she was involved with a seemingly routine traffic stop when arrested has drawn comparisons with Bland's case. Bland was pulled over for failing to signal a lane change in Texas last year and video shows her being treated roughly by police. She was found three days later dead in the jail. Her death was ruled to be a suicide.
Still, the seemingly violent arrest uncovered in Bland's arrest drew national outrage and protest. Her death followed several prominent deaths of unarmed black people while interacting with police officers across the country. Those deaths, many of which have been caught on camera, have sparked the ongoing Black Lives Matter movement.
© Copyright IBTimes 2023. All rights reserved.