Who Is Idina Menzel? Super Bowl National Anthem Singer Best Known For 'Frozen,' Broadway's 'Wicked'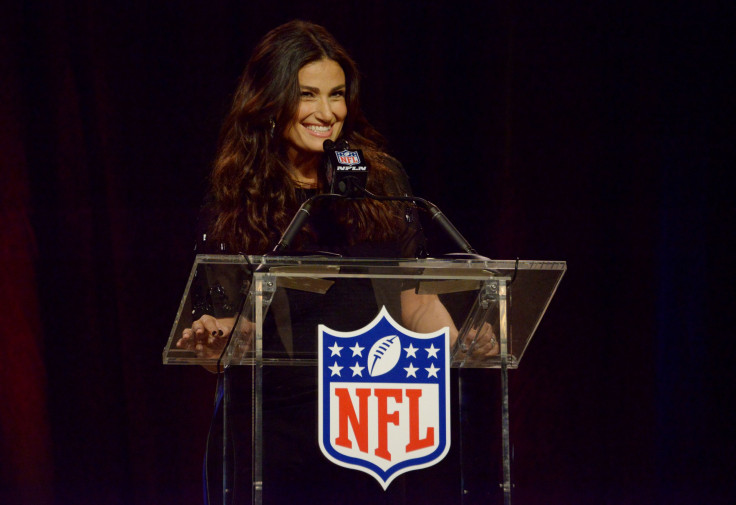 Broadway star Idina Menzel is set to take her biggest stage yet this Sunday with a scheduled performance of the national anthem at the Super Bowl, an opportunity she has called the culmination of a lifelong dream. "It's the pinnacle. It's the milestone in my career," said Menzel this week, according to the Associated Press.
After getting the call inviting her to perform at the Super Bowl, the singer said she "got chills," recalling the iconic performance of her idol Whitney Houston, whose rendition of the song is widely regarded as one of the best. "There was just something so beautiful that was coming from her that day," she said, according to the AP. Despite her reverence for Houston's performance, Menzel is hoping to make the song her own on Sunday.
Menzel made her name on Broadway, where she originated roles in hit shows like "Rent" and "Wicked." The singer has since gained widespread popularity for her voice acting in the smash Disney film "Frozen." She won an Academy Award for her performance of the hit song "Let It Go." The singer has said that John Travolta's famous botching of her name at the 2014 Academy Awards -- the actor mistakenly introduced her as "Adele Dazeem"-- has contributed to the significant embrace from the public she has experienced recently. The gaffe went viral, giving her even greater exposure following the awards. "It has change my life," she told Access Hollywood. "People that didn't know me, now know me, and the people that knew me, stuck up for me. So, that made me feel really good."
Menzel acknowledged Friday that she was nervous about her Super Bowl performance, which, with an estimated 110 million viewers, is likely to be her largest live audience yet. However, her father is likely to be even more worked up than she is, Menzel told the Today Show's Savannah Guthrie. "He's a big sports fan," she said. "He brought me up on football ... every Sunday we'd watch games and ... he just texted me before you got here and was just like, 'This is a big gig, honey.'"
The singer will be rooting for the Seattle Seahawks in their Super Bowl matchup against the New England Patriots, said the AP. "I'm a New Yorker and I cannot in good faith root for the Patriots," she said.
© Copyright IBTimes 2023. All rights reserved.