Who Is Jane Skinner? Roger Goodell's Wife's Fake Twitter Account Defended Husband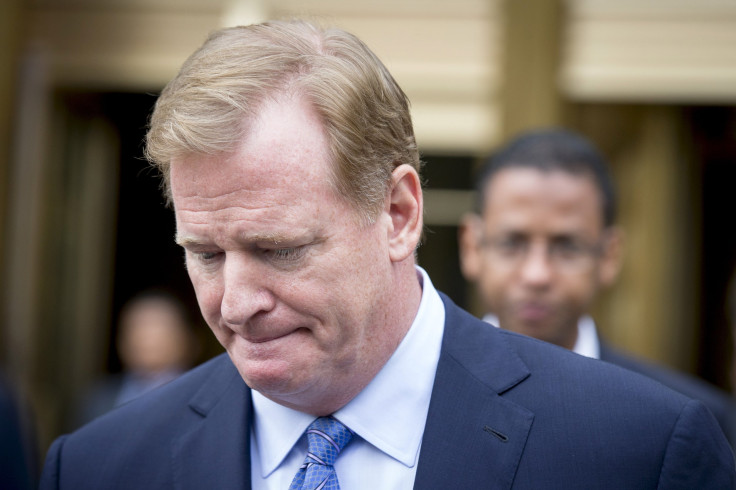 Jane Skinner Goodell, the wife of NFL Commissioner Roger Goodell, used an anonymous Twitter account to defend her husband, the Wall Street Journal reported Thursday. Under the fake name "Jones Smith," the handle @forargument, defended Goodell on several issues including the NFL's recent handling of national anthem protests.
"It was a REALLY silly thing to do and done out of frustration—and love," Skinner said in a written statement to the Journal Thursday. "As a former media member, I'm always bothered when the coverage doesn't provide a complete and accurate picture of a story. I'm also a wife and a mom. I have always passionately defended the hard-working guy I love—and I always will. I just may not use Twitter to do so in the future!"
Skinner was a former daytime news anchor, who worked for Fox News Channel and co-hosted "Happening Now" with Jon Scott. She graduated from Lake Forest High School in 1985 and received her bachelor's and master's degrees from Northwestern University.
On Oct. 25, 1997, she married Goodell and the couple now lives in Westchester, New York, with their twin daughters, who were born in 2001. Her father Sam Skinner, is a former Secretary of Transportation and White House Chief of Staff under President George H.W. Bush.
The Journal exposed Skinner's fake Twitter account, which did not have a profile picture nor any followers. After the Journal reached out to Skinner, the account was made private and later deleted.
"Sounds like what she did is what every spouse in America would want to do," NFL spokesman Brian McCarthy said.
The Journal provided some examples of the tweets posted from the fake account, one of which was in response to a Wall Street Journal article about NFL owners disagreeing on the handling of anthem demonstrations, "Jones Smith" wrote: "The premise of your article is silly. What board of directors in this country would all agree on this issue?"
In response to a joke by Jason Gay of the Journal to a photo showing, Goodell with New England Patriots fans got an admonishment, Jones Smith wrote: "Why is everyone so immature? (including you?). Let's celebrate the new season."
The last tweet from the account was in response to NBC News' presidential historian who tweeted a picture of a 1970 newspaper article about then-Vice President Spiro Agnew attacking U.S. Senator Charles Goodell, Roger's father: "Goodell courageous & was right in the end. Leadership is hard. Commish is doing same. Give him credit."
The fake Twitter has been defending Goodell at a time when the league is in a feud with President Donald Trump over some players' decisions to kneel during the national anthem.
The national anthem controversy began with former San Francisco 49ers quarterback Colin Kaepernick kneeling during the national anthem last season as part of a protest against police brutality.
On Wednesday, Trump told Fox News' Sean Hannity that the NFL should have suspended Kaepernick for kneeling during the playing of "The Star-Spangled Banner."
"The NFL should have suspended him for one game and he would have never done it again," Trump told host Sean Hannity in Harrisburg. "They could have then suspended him for two games and they could have suspended him again if he did it a third time, for the season, and you would never have had a problem."
On Tuesday, Goodell said in a letter to team owners that he believed players should stand for the national anthem, adding that the league would consider a rule change requiring players to stand.
© Copyright IBTimes 2022. All rights reserved.
FOLLOW MORE IBT NEWS ON THE BELOW CHANNELS