Who Is Marie Harf? State Department Spokesperson Responds To 'ISIS Jobs' Comment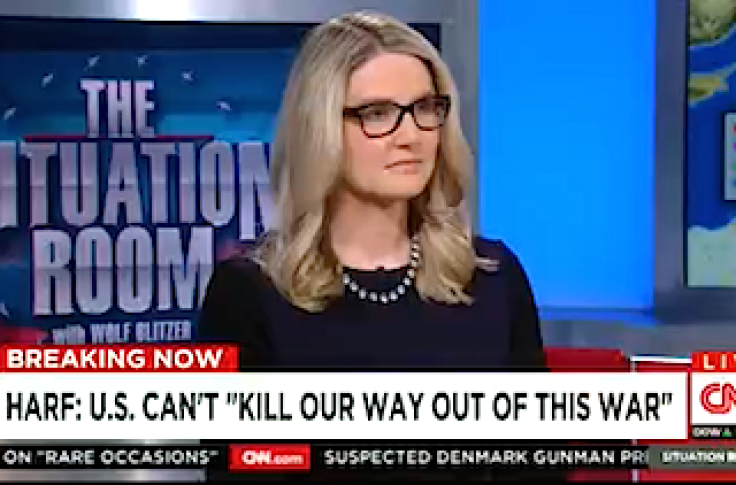 U.S. State Department spokeswoman Marie Harf met with harsh Twitter reaction after her statements about ISIS during an MSNBC appearance Monday. Harf told host Chris Matthews that the U.S. could not win the war on terror without finding jobs for the Islamic militants who make up ISIS.
"We cannot win the War on Terror, nor can we win the war on ISIS by killing them. We need to find them jobs. We need to get to the root cause of terrorism, and that is poverty and lack of opportunity in the terrorist community."
The comments sparked a flurry of Twitter responses, with #ISISJobs ranking as a top-trending topic on the social media site Monday morning. Many netizens took the opportunity to make memes after Harf's statement.
Harf told Wolf Blitzer on CNN's "The Situation Room" that she hasn't read the negative comments from her statement, but she still wanted to clarify what she said. "We cannot kill every terrorist around the world, nor should we try," Harf said on CNN, according to Mediaite.com. "How do you get at the root causes of this? It might be too nuanced an argument for some, like I've seen over the last 24 hours some of the commentary out there, but it's really the smart way that Democrats, Republicans, our partners in the Arab world think we need to combat it."
Harf later took to Twitter to further explain herself and reiterated that the U.S. cannot kill its way out of the problem and instead need a different strategy. "Point is that pols across spectrum, military cmdrs, & CT experts all agree strategy needs to address conditions that allow extremism to grow," she wrote Tuesday.
Follow me on Twitter @mariamzzarella
© Copyright IBTimes 2022. All rights reserved.
FOLLOW MORE IBT NEWS ON THE BELOW CHANNELS