Who Is Nicholas Robertson? Video Appears To Show Los Angeles Sheriff's Deputies Shooting Man As He Crawls Away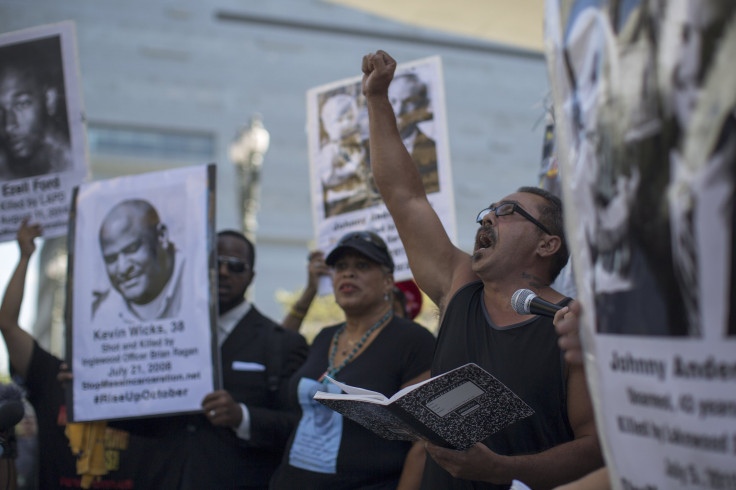 The Los Angeles County Sheriff's Department announced Sunday it would investigate the fatal shooting of Nicholas Robertson, a 28-year-old black man, after a video of the incident went viral. Robertson was killed this weekend by two officers who have yet to be identified, Reuters reported.
"We understand the significant community concern anytime the police are involved in the use of deadly force," Sheriff Jim McDonnell told reporters at a news conference, adding that he planned to be "thorough and deliberate" in his probe.
Police said Robertson shot his gun into the air about six times Saturday morning and then traveled toward a shopping area in Lynwood, which is about 15 miles south of downtown Los Angeles. Robertson went into a store and emerged, walking back to the road before pointing his weapon at the officers who had responded to a witness' 911 call, police told the Los Angeles Times. The deputies fired 33 shots, and Robertson died at the scene.
Sunday morning, local TV news station KTLA published a cell phone video appearing to show deputies continuing to fire at Robertson while he crawls away. The clip quickly circulated on social media, causing some to raise concern that his death was yet another case of police brutality against a young, black male.
"They shot him in his shoulder, and he was crawling to this gas station," Robertson's mother-in-law, Pamela Brown, told CBS Los Angeles. "He left three kids behind. Two daughters and a son. What? They could have Tased him, or anything."
Robertson's death came just before a Baltimore jury was to start deliberations in the first trial on the death of Freddie Gray, a 25-year-old black man who died in while in the custody of Baltimore police. Activists also have been demonstrating in Chicago, where city officials are accused of covering up the circumstances around the police killing of 17-year-old Laquan McDonald last year.
© Copyright IBTimes 2023. All rights reserved.