Who Is Reince Priebus? 10 Facts On President-Elect Trump's Chief Of Staff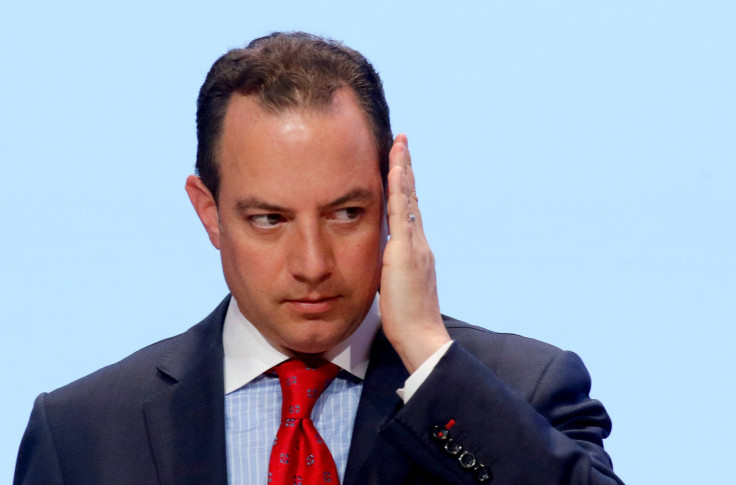 President-Elect Donald Trump named Republican Party Chairman Reince Priebus his new chief of staff and Steve Bannon, the Trump campaign's CEO and executive chairman of Breitbart News, as chief strategist and senior counselor Sunday.
The real estate mogul reportedly said in a statement that the two men would be "equal partners" adding: "Steve and Reince are highly qualified leaders who worked well together on our campaign and led us to a historic victory. Now I will have them both with me in the White House as we work to make America great again."
This arrangement puts two unlikely men together: Priebus who is seen as very much with the establishment and Bannon who is more hostile towards the establishment.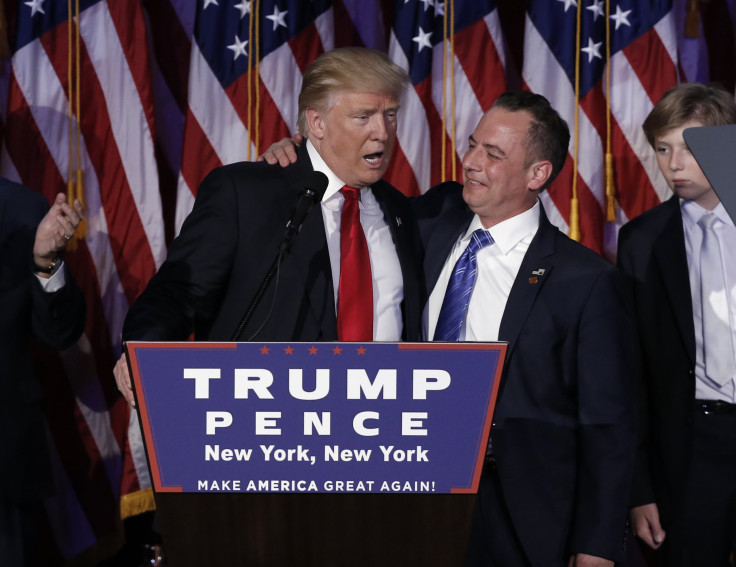 Here's all you need to know about Priebus:
Reince is a nickname. His actual name is Reinhold.
He is close friends with House Speaker Paul Ryan who, like the GOP chief, is from Wisconsin. Their friendship dates back to nearly two decades.
Although he has no governing experience in Washington, he reportedly comes armed with the ability to build and maintain relationships with both top leaders and those from the grassroots.
He is the longest-serving GOP chairman in history having begun his term in 2011 and reelected in 2013 and 2015.
He inherited a party that had racked up a $23 million debt but a year after he took over, the RNC had $20 million in cash on hand and $13 million in debt.
He was sure to win re-election as party chair in January, reports said citing GOP officials. In fact, Priebus had begun contacting members of the RNC asking for their support for his reelection bid.
Although the 44-year-old was Trump's confidant, he too criticized the president-elect's plan to impose a ban on Muslim immigrants. "That's the message that we're trying to get out across the country, which is it doesn't matter what the color of your skin is, what your faith is, what gender you are, or what age you are," he reportedly said. "This is a party of freedom, opportunity and equality. That's what our party is."
Priebus was the man behind the RNC's ambitious ground game that helped Trump win the election. The party's get out the vote campaign consisted of 315 field offices with 7,600 paid employees who knocked on 24 million doors and logged 26 million phone calls.
He plays the piano and has won several competitions as a boy.
He enjoys playing jazz.
Republicans welcomed Trump's decision to appoint Priebus as his chief of staff but many chose to ignore Bannon's new post. Speaker Ryan tweeted his congratulations to his friend, Priebus and reportedly told CNN Sunday: "I don't know Steve Bannon, so I have no concerns. I trust Donald's judgment."
Sen. Lindsey Graham said Trump picking Priebus was an "outstanding choice" and showed that "he [Trump] is serious about governing."
© Copyright IBTimes 2023. All rights reserved.
FOLLOW MORE IBT NEWS ON THE BELOW CHANNELS