Who Is Scott Pruitt? Trump EPA Pick Has Strong Energy Firm Ties And A Major Critic Of Agency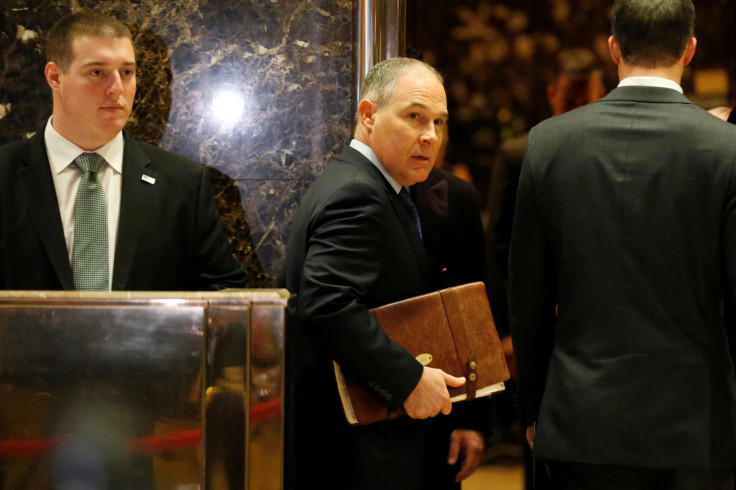 Donald Trump has picked a prominent critic of the Environmental Protection Agency with close ties to energy companies Wednesday to run that very same agency he has criticized, transition officials told the New York Times. Oklahoma Attorney General Scott Pruitt met with the president-elect Wednesday for the second time since the election though he was not considered a frontrunner for the position.
Pruitt, 48, is well-known for his criticism of the EPA, which he claims imposes unnecessary and costly regulations on energy companies. As attorney general of Oklahoma, he has sued the EPA before over water regulations and climate change regulations to cut carbon dioxide emissions for power plants.
As an administrator, Pruitt would have the ability to steer the agency's regulatory efforts and priorities. While he would likely be unable to immediately revoke finalized EPA climate change rules pushed by the Obama administration like caps on automobile emissions, he could still direct the agency to begin the lengthy process of repealing the rules. As for the Clean Power Plan—one of the issues Pruitt sued the EPA over and a major part of Obama's climate efforts—the unknown results of an ongoing court challenge to the rule make it difficult to determine its future and how vulnerable it may be to a new EPA head.
Pruitt has proven to be a close ally to energy firms in the past. As attorney general, he sent an official letter to EPA officials in October 2011 stating that emissions and air pollution from new natural gas well drilling in his state was being overestimated by the agency, which was reviewing the issue. The New York Times later reported that the letter had been written almost entirely by lawyers for one of Oklahoma's biggest oil and gas companies, Devon Energy. Pruitt's letter, sent on state stationary, was only marginally different from the one Devon Energy provided.
Pruitt has also pushed back against Democratic attorneys general in the country who have sought to investigate Exxon Mobil over concerns that the company had misled investors and the public about the dangers of climate change.
"You couldn't pick a better fossil fuel industry puppet. Pruitt formed a secret alliance with oil and coal companies to gut our environmental regulations and has defended ExxonMobil's climate cover-up," May Boeve, the executive director of 350.org, an environmental advocacy group, said in a statement. "This is a man who cares more about the profits of coal company CEOs than the health of our children or the future of our planet."
Pruitt has been Oklahoma's attorney general since 2011. He previously served for eight years in the Oklahoma State Senate where his official state biography says he "was a leading voice for fiscal responsibility, religious freedom and pro-life issues."
© Copyright IBTimes 2023. All rights reserved.