Who Stabbed The Proud Boys? BLM Supporters May Be Under Investigation
Three Proud Boys members and one pro-Trump activist were stabbed on Wednesday morning in Washington D.C., and three Black Lives Matter group supporters are under investigation for the crime.
The Proud Boys is widely considered to be an extremist group, and they're President Donald Trump supporters. They made white power symbols in various bars in DC, according to Daily Mail.
Enrique Tarrio, Bevelyn Beatty and one more person that hasn't been named yet were stabbed around 2:26 a.m. near New York Avenue, which is near the White House, Daily Mail also reported.
Beatty is the African-American woman that vandalized a mural painted by the BLM group in New York City right outside of Trump Tower and Tarrio is the Proud Boys chairman.
Tarrio told the Gateway Pundit that he was slashed in the stomach while others were stabbed in the neck and in the back. The victims have non-life-threatening injuries.
While Black Lives Matter and the Proud Boys were initially named when police confirmed the stabbing, they backtracked and said that they do not know for sure if the people involved belong to protest groups, CBS affiliate WUSA reports. Police said they don't have a motive yet.
After the news was released on Twitter, users had their opinions about what happened.
Businesses all over the country prepared for the presidential election by boarding up storefronts and putting inventory away in case of riots and looting.
There were a few arrests around the country including 40 in Los Angeles, eight in Seattle, 14 in Minneapolis and six in Raleigh, North Carolina.
DC stayed blue with the majority vote for Democratic nominee Joe Biden. There's never been a Republican to win the electoral vote for DC, according to CBS.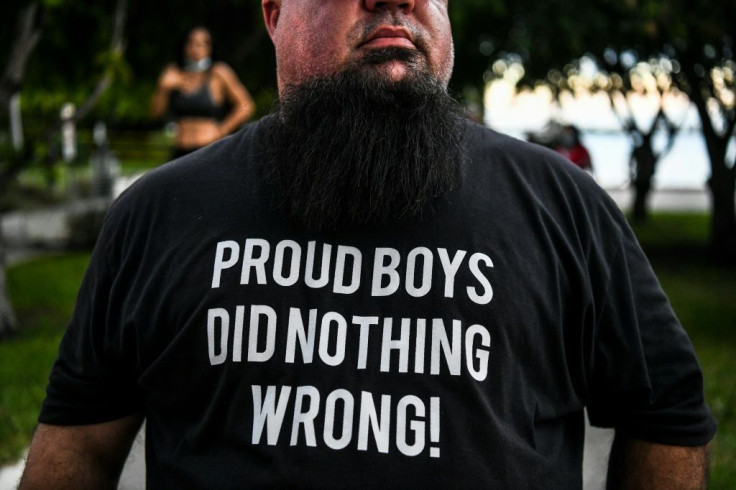 © Copyright IBTimes 2023. All rights reserved.