Who Voted For Trump? Millennials Supported Clinton With 54 Percent Of The Youth Vote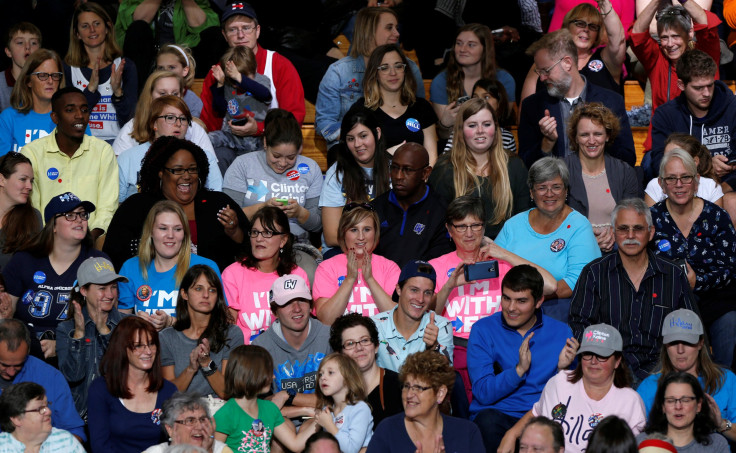 Millennials mostly supported Hillary Clinton in the 2016 general election on Tuesday, but the youthful voting bloc fell short of their efforts from 2012. Exit poll estimates showed 54 percent of young voters supported the Democrat, with 46 percent supporting the eventual winner, Republican Donald Trump.
Conversely, millennials rallied behind President Barack Obama's re-election efforts with 60 percent support four years ago, when youth support was equally if not more critical.
In 2012, turnout was 45 percent among voters between the ages of 18 and 29, according to the Center for Information and Research on Civic Learning and Engagement at Tufts University. The center, also known as CIRCLE, found that young people overwhelmingly supported President Barack Obama. About 60 percent of youth voted for Obama, while only 37 percent backed Republican nominee Mitt Romney.
This year, Democratic primary candidate Bernie Sanders, a senator from Vermont, became famous for his ability to motivate millennials. Democratic leaders expressed concern after Clinton won the nomination that youth support would not translate to her from the wildly popular Sanders. In an attempt to fix this, Clinton adopted several of Sanders' stances while advertising support from major celebrities like Jay Z and Lady Gaga.
Heading into Tuesday's election, the Harvard University Institute of Politics poll found that 18- to 29-year-olds favored Clinton by 28 percentage points. Libertarian Gary Johnson and Green Party nominee Jill Stein polled at 14 percent and 5 percent, respectively.
Perhaps more notably, half of young voters said they were "fearful," not "hopeful," about the future of the U.S. But John Della Volpe, the polling director for the Harvard Institute, suggested that fear factor could spur millennials — who comprise a third of the American electorate — into action.
"I am hopeful that the next president and leaders in Congress will empower and engage them after the election to move our country forward," Della Volpe said in a news release.
© Copyright IBTimes 2023. All rights reserved.