Clinton vs. Trump Polls: Millennials Support Hillary More Than Trump, But Will They Vote On Election Day?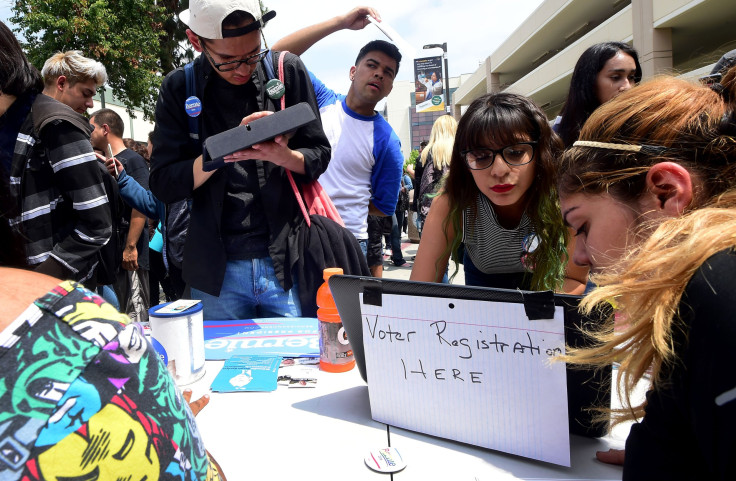 The generation the internet loves to hate should be taken seriously on Nov. 8.
Millennials, or people ages 18 to 34, make up about a third of the American electorate. They propelled Barack Obama to the White House in 2008, kept him there in 2012 and could make a big difference if they turn out for Democrat Hillary Clinton or Republican Donald Trump on Election Day.
So far, they're backing the former first lady. Survey data released Monday by Tufts University's Center for Information and Research on Civic Learning & Engagement, nicknamed CIRCLE, found that 49 percent of young people said they planned to vote for Clinton. Only 28 percent said they planned to support Trump.
Both figures were in line with other recent polls, but pundits remained concerned about turnout. What if millennials don't go to the polls?
About 66 percent of respondents said they were "likely" or "extremely likely" to cast ballots. More Trump backers said they were going to cast ballots than Clinton supporters who said the same.
But outreach, which has proven to be effective in convincing young adults to vote, appeared to be underutilized. Less than a third of millennials said a campaign had contacted them about the upcoming election.
"Millennials can shape our elections and the direction of our democracy," CIRCLE director Kei Kawashima-Ginsberg said in a news release. "But if we want young people to invest their time, talent, and enthusiasm in electoral engagement, campaigns and political parties need to reach more and different types of youth."
This trend isn't new: A Pew Research Center study from the 2014 midterms found that campaigns tended to focus their outreach efforts on older voters, likely because of their more predictable habits. That year, 78 percent of people over 65 told Pew they'd gotten mail from a candidate. Only 35 percent of voters under 30 said the same.
But millennial-pandering gimmicks like Ben Carson's rap song, Jeb Bush's "Star Wars" reference and Bernie Sanders' "Ellen" dance aren't necessarily the best ways to get young people's attention. Then-Rock the Vote president Ashley Spillane told Fusion in 2014 that digital outreach is what works best.
"We have to meet young people where they are, which is online, to get people registered to vote," she said at the time. "We need to do a better job of conveying the impact that you can have with your vote."
© Copyright IBTimes 2023. All rights reserved.