Who Won The Debate? Clinton Declared Winner Against Trump As Racism, Trade, Sexism And The Economy Dominate Debate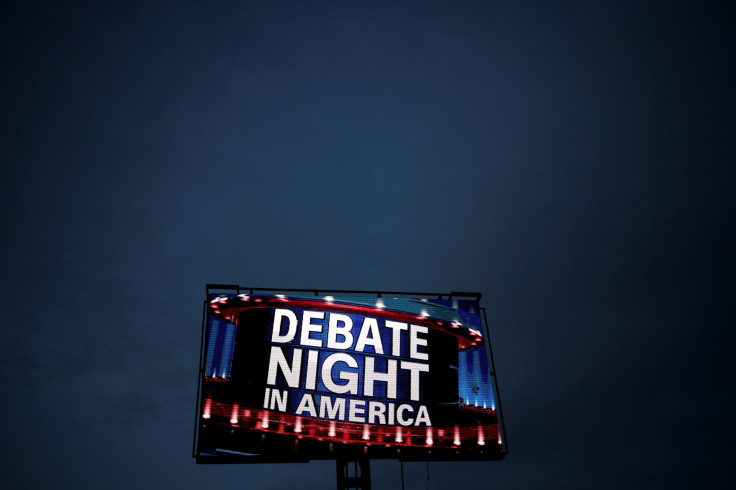 Hillary Clinton dismissed Donald Trump as a "crazy" racist who has insulted African-Americans and women and doesn't have the temperament to serve in the White House during a tense debate Monday night in New York that could help sway independent voters and turn out party loyalists with just weeks left until Election Day.
With exactness and facts that underscored her bookish preparation for the debate, Clinton pummeled Trump for his "racist birther lie" that President Barack Obama was not a U.S. citizen, which Trump recently conceded was not true. She made fun of the GOP nominee for refusing to release his tax returns and calling women pigs while failing to provide specific policy details.
"At least I've got a plan to fight ISIS," Clinton told Trump at one point.
Later, in the final minutes of the debate, she went after him for his harsh remarks about women.
"This is a man who has called women pigs, slobs and dogs. And someone who has said pregnancy is an inconvenience to employers," Clinton said. "Who has said women don't deserve equal pay unless they do as good of a job as men."
Trump's long reply spoke to his tendency to speak off-script in raw language that has sometimes offended minority groups throughout his campaign. "Hillary is hitting me with tremendous commercials. Some of it is entertainment, some of it—somebody who has been very vicious to me, Rosie O'Donnell. I said very tough things to her and I think everybody would agree that she deserves it and nobody feels sorry for her. But you want to know the truth. I was going to say something extremely rough to Hillary and to her family and I said to myself, I can't do it. I just can't do it. It's inappropriate. It's not nice," he said.
When he wasn't replying to Clinton's zingers, Trump sought to portray himself as a successful businessman with fresh ideas who would lead the U.S. to new levels of economic prosperity and security. He dismissed Clinton's policy proposals to create jobs and conquer the Islamic State group, making the case to voters that her many years in public service hadn't yielded the results Americans were clamoring for.
"Hillary, let me ask you this — you've been doing this for 30 years. Why are you just begin about the solutions right now? Thirty years, been doing it. And now you're just thinking of solution," Trump said.
He also linked Clinton to her husband's two terms in the White House, particularly Bill Clinton's work on foreign trade deals.
"Your husband signed NAFTA, one of the worst things that ever happened in the manufacturing industry," Trump said. "You go to New England or Ohio or anywhere, you see devastation because of NAFTA."
"I have a feeling that by the end of this evening I'm going to be blamed for everything that's ever happened," Clinton said at one point.
"Why not?" Trump retorted.
Trump made appeals to black and Latino voters, promising to clean up inner cities and bring back tough law enforcement policies such as stop and frisk. "We have a situation where we have our inner cities — African-Americans and Hispanics are living in hell because it's so dangerous ... You walk down the street, you get shot," he said.
Analysts and media leaders quickly declared Clinton the winner for her poise and analytic talking points, but many noted that she had won largely because Trump had done so poorly.
"Clinton remains in the lead after a feisty second round," The Los Angeles Times declared.
BuzzFeed News tried to shame Trump for making up facts. "Republican candidate Donald Trump accused Hillary Clinton of 'fighting ISIS your entire adult life,' which is literally impossible since the group only came into existence after the invasion of Iraq," the site wrote.
GOP pollster Frank Luntz tweeted that Clinton was winning. "Tonight Hillary is coming across as presidential," he wrote.
CNN correspondent Jake Tapper said Trump started off strong, before sinking with each round of insults. "He took the bait every time Hillary Clinton tried to tempt him into talking about something he really shouldn't have been talking about," Tapper said.
There were some compliments for Trump's performance. The New York Times praised Trump's consistent attacks: "After a weak start in the debate, Donald J. Trump recovered his footing with a badgering onslaught against Hillary Clinton, interrupting her repeatedly and shouting over her to blast her as a career politician with bad ideas on trade. With his hectoring attacks, Mr. Trump appeared to seize the terms of the debate... Mrs. Clinton kept her composure but did not match Mr. Trump in volume or intensity."
The Washington Post marveled that Trump had actually put in some effort: "Whatever the merits of his argument, it does seem like the Republican nominee put some time into studying the issues before his appearance tonight."
Former New York City Mayor Rudy Giuliani, a Trump supporter, said the GOP nominee "knocked it out of the park."
Trump still has time to make up for his perceived stumbles. The candidates will meet twice again before the Nov. 8 election, while the vice president candidates have one debate scheduled for Oct. 4. The next presidential debate will be moderated by ABC's Martha Raddatz and CNN's Anderson Cooper on Oct. 9 in St. Louis, one of many urban centers that has seen protests in recent months over police brutality and the Black Lives Matter social justice movement. The final debate on Oct. 19 will be held in Las Vegas. Nevada is a crucial swing state with a significant number of Latino voters.
The bipartisan Commission on Presidential Debates excluded Libertarian Gary Johnson and Green Party candidate Jill Stein from the Monday night debate because neither got 15 percent support in national polls.
Clinton and Trump are nearly even in national polls. Clinton picked up endorsements from The New York Times and Los Angeles Times over the weekend, while Sen. Ted Cruz, R-Texas, who came in second during the GOP primary, endorsed Trump for president.
© Copyright IBTimes 2023. All rights reserved.