Who Won New Hampshire Democratic Primary? Watch Live Stream Of Bernie Sanders Victory Speech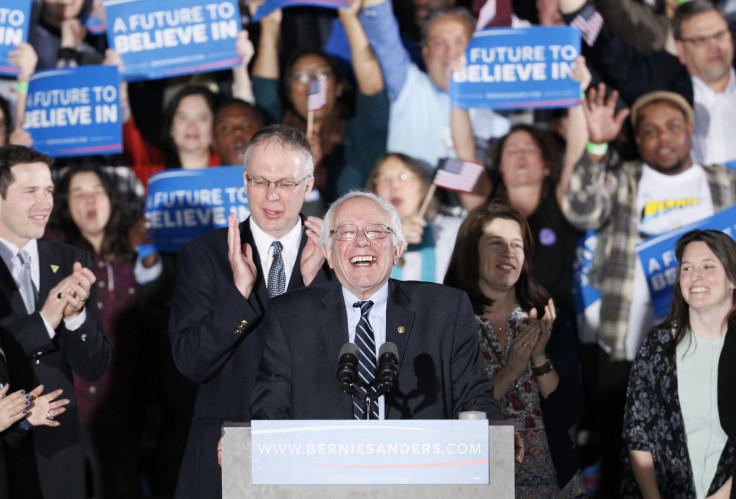 New Hampshire voters were feeling revolutionary Tuesday. As results came in, it immediately became clear that Vermont Sen. Bernie Sanders would win the New Hampshire primary, the first in the nation.
The success for the insurgent democratic socialist marks a significant blow to Hillary Clinton, who was assumed to be the party's prohibitive favorite, but has been surprised by the enthusiasm and support for Sanders' candidacy. Sanders had held a wide lead in New Hampshire polls for quite a while, and the most recent surveys showed him with a double-digit lead going into the primary.
He spoke Tuesday night from his primary night watch party in Concord, New Hampshire, discussing his usual economic platform but also aiming at Republicans in what seemed like a talk focused on the general election as much as the primary season ahead. The live stream was available on major news networks and you can watch it below.
"Together we have sent the message that will echo from Wall Street to Washington, from Maine to California," Sanders said in his speech Tuesday night. "And that is the government of our great country belongs to all of the people and not just a handful of wealthy campaign contributors and their super PACs."
While polling in the state is notoriously difficult because residents often make up their minds at the last minute, the trends have stayed relatively consistent. On Tuesday, Sanders held an average of 54.5 percent to Clinton's 41.2 percent in New Hampshire, according to Real Clear Politics. This average was closer than some polls such as the Monday CNN/WMUR poll, which had Sanders at 61 percent and Clinton at 35 percent.
Because New Hampshire borders Sanders's home state of Vermont, he was expected to get a boost. But his success there was not inevitable. Clinton has a long history with the Granite State, and initially led Sanders by 40 points there in June.
Live New Hampshire Results Map
Candidate photos courtesy of Getty. Photos by Alex Wong, Andrew Burton, Darren McCollester, Ethan Miller, Frederic Brown, Justin Sullivan, Mandel Ngan/AFP, Saul Loeb, Scott Olson and Win McNamee. A "County Margin of Victory" refers to the percentage points between the first place and second place winners in that county.
She won the state in a decisive victory over Barack Obama in 2008, which helped prolong her run against him that year. Her husband's successes in New Hampshire were important for his presidential runs in the 1992 and 1996 as well, and Clinton has the endorsement of the state's Democratic governor and senator.
Just as he did in his extremely close loss to Clinton in the Iowa caucuses, Sanders beat Clinton among young voters in New Hampshire. Early exit polls showed he led her 83-16 percent among voters under 30, MSNBC reported. He has been very popular among young and independent voters, and high turnout from these demographics were expected to be key to a Granite State win.
"We won because we harnessed the energy and the excitement that the Democratic Party will need to succeed in November," Sanders said Tuesday, adding that voter turnout was "huuuuge."
"Let us never forget, Democrats and progressives win when voter turnout is high. Republicans win when people are demoralized and voter turnout is low," he added.
A Sanders win in New Hampshire is likely to give the Vermont senator significant momentum moving forward, as the Democrats will need to wait 11 days until the next nominating contest in Nevada, and 19 until the South Carolina primary. Many predicted that Sanders would need to win New Hampshire by a significant amount in order to prove he can take on the former secretary of state, but the spin the two candidates manage to pull out is likely to be at least as important as the vote counts.
After the Iowa caucuses last week, Sanders declared a moral victory despite technically coming in second to Clinton. Now, he will need to turn his attention to the more diverse states coming up, where Clinton is predicted to do much better.
Clinton is very popular among people of color, and despite acknowledging this deficit, Sanders is still struggling to attract minority voters. His populist message of addressing economic inequality and taking on Wall Street establishment has appealed to voters in early states, but he is still working to broaden his platform and show minority voters he understands their concerns. However, Sanders is set to address that right away — he is scheduled to have breakfast with the Rev. Al Sharpton in Harlem Wednesday morning, The Daily Beast reported Tuesday.
Sanders also addressed minority voters during his speech in New Hampshire Tuesday night, adding a message of fighting for LGBT Americans, equal pay and criminal justice reform to his core campaign issues. "Not only are we going to fight to end institutional racism and a broken criminal justice system, we are going to provide jobs and education for our young people, not jails and incarceration," Sanders said.
© Copyright IBTimes 2023. All rights reserved.