Why Is Bill Bratton Leaving NYPD? Controversial Police Commissioner To Step Down: Reports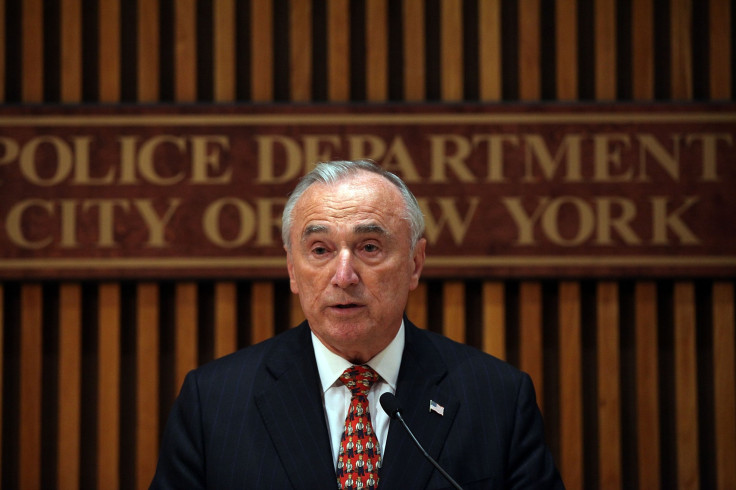 UPDATE: 2:50 p.m. EDT — When New York Police Department Commissioner Bill Bratton steps down from the job in September, he'll head to Teneo, an advisory firm that counsels CEOs and global leaders, the Wall Street Journal reported exclusively Tuesday. Bratton will work as a senior managing director and lead a risk division.
Teneo has ties to Democratic presidential nominee Hillary Clinton. The company launched while Clinton was secretary of state and was at one point paying her husband, Bill, to be an honorary chairman, Politico reported earlier this year. Sources alleged potential clients got to schmooze with the Clintons and other national leaders. "Some Clinton aides and [Clinton Foundation] employees began to wonder where the foundation ended and Teneo began," the New York Times wrote in 2013.
UPDATE: 12:15 p.m. EDT — New York City Mayor Bill de Blasio confirmed police commissioner William Bratton's departure Tuesday at a news conference. The mayor thanked Bratton and announced that he would retire from the NYPD in September.
"We will never forget or fail to honor the achievements of Bill Bratton," de Blasio said, adding that the commissioner "never rested on his laurels" over his lengthy tenure.
Replacing Bratton will be James O'Neill, the chief of department, who de Blasio called "one of the best prepared incoming police commissioners this city has ever seen."
Original story:
New York Police Department Commissioner William Bratton will leave his position as head of the United States' largest city police force, reporters with the Wall Street Journal and Politico tweeted Tuesday morning.
Bratton was commissioner from 1994 to 1996 and took over the role again in 2013. He'll be replaced by James O'Neill, the chief of department, according to reports. O'Neill joined the NYPD in 1983 and quickly rose through the ranks, becoming chief of patrol and commanding officer of the office of the police commissioner, according to his bio.
As the New York Daily News noted, Bratton said last week he wasn't going to seek another term. "There's never a good time to leave something that you love doing, but there's a right time," Bratton said on July 25, according to CBS. "When I find that right time, after a consultation with the mayor, I'll decide to go."
Bratton was the subject of a demonstration Monday in New York City during which Black Lives Matter activists demanded he be fired. WABC reported that about 100 protesters gathered in Manhattan to express anger over alleged police brutality and his "Broken Windows" strategy aimed at cracking down on small crimes.
"He needs to go now," organizer Vienna Rye told Gothamist.
Statistics released in January showed overall crime dropped 1.7 percent from 2015 to 2016, according to WABC. However, certain crime rates had jumped, among them murder, rape and robbery.
The data also came out shortly after Ray Kelly, a former NYPD commissioner, publicly accused Bratton's department of underreporting crime data. The NYPD denied manipulating the numbers, but some locals remained skeptical.
"Every year, you hear the same statistics, and they always point to crime being really, really low," Brooklyn resident Abbie Cunningham told the New York Post earlier this year. "But somehow the statistics don't seem to match reality."
This is a developing story.
© Copyright IBTimes 2023. All rights reserved.