Why Did Hulu Owners Decide to Scrap $2 Billion Auction?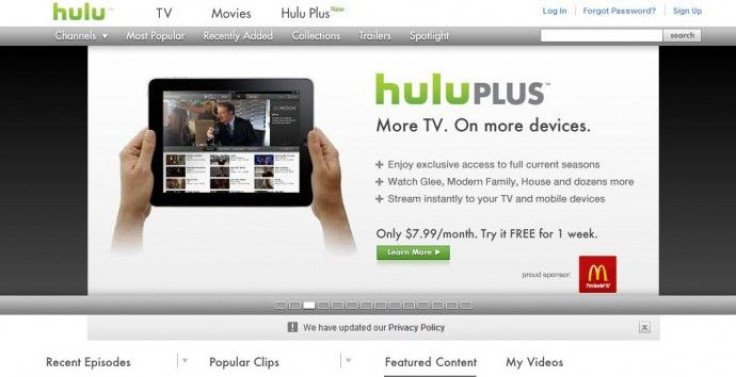 Internet entertainment site Hulu is no longer for sale, keeping it for now under the umbrellas of media giants Walt Disney, News Corp. and Comcast UniversalNBC.
Until last month, the owners were hoping to reap as much as $2 billion from an auction conducted by Morgan Stanley and Guggenheim partners. At least six bids came in from likely suspects: Google, Yahoo, Amazon, Dish Network, Microsoft and AT&T, investment sources said.
The past few months have seen rich bids for patents and assets, such as a $4.5 billion offer for Nortel Networks patents won by a syndicate headed by Apple, Research in Motion and others; as well as Google's purchase of 1,023 patents from IBM for an undisclosed sum.
But entertainment is different and Santa Monica, Calif.-based Hulu's owners, also including Providence Equity Partners, decided to change the strategy. Since Hulu holds a unique and compelling strategic value to each of its owners...we look forward to working together to continue mapping out its path to even greater success, they announced this week.
Reports said that while Google, which reported cash and investments exceeding $42.6 billion as of Sept. 30, made a compelling bid, it wanted assurances that Hulu's TV programs, from Fox, NBC and others, would be available under long-term contracts. Hulu couldn't guarantee that because the service is still finding its way.
Other events intervened. Last month, Yahoo fired CEO Carol Bartz and may itself become a takeover candidate. Amazon introduced Kindle Fire for release in November, throwing in free use of Amazon Prime for at least an initial period.
Then Netflix seemed to self-destruct three times, first boosting subscription prices, then announcing a split between DVDs and streaming media and then scrapping the whole idea. Netflix, whose shares have plunged nearly 60 percent during the Hulu auction, could itself be acquired.
However, the Netflix commotion, Amazon's new products as well as Apple's introduction of new entertainment services available through the iCloud for iPhone 4S have demonstrated the value of streaming media, as well as original content.
Since both Disney and News Corp. own movie studios and TV channels that produce new content every day, keeping Hulu close apparently means it's more valuable than ever.
Since the IPO idea was scratched, Hulu introduced a paid subscription service called Hulu Plus which claims as many as a million subscribers paying $8 a month. Hulu executives said they expected the site's revenue to reach $500 million in 2011.
Just before the U.S. fall TV season began, Hulu made a deal with Dish Network which allowed subscriber access by just entering an authentication code. This added additional cable TV companies to the mix, beyond Comcast UniversalNBC, which is already No. 1.
In early October, Hulu agreed to tap hundreds of hours of Spanish-language library content from Univision Communications. Service is scheduled to start this quarter. The deal extends to Hulu Plus as well.
As a result, Hulu now looks more attractive than ever. Next Friday, News Corp. is scheduled to hold its annual meeting, where conceivably CEO Rupert Murdoch may discuss how the streaming service is blazing a path into new media technologies.
© Copyright IBTimes 2023. All rights reserved.